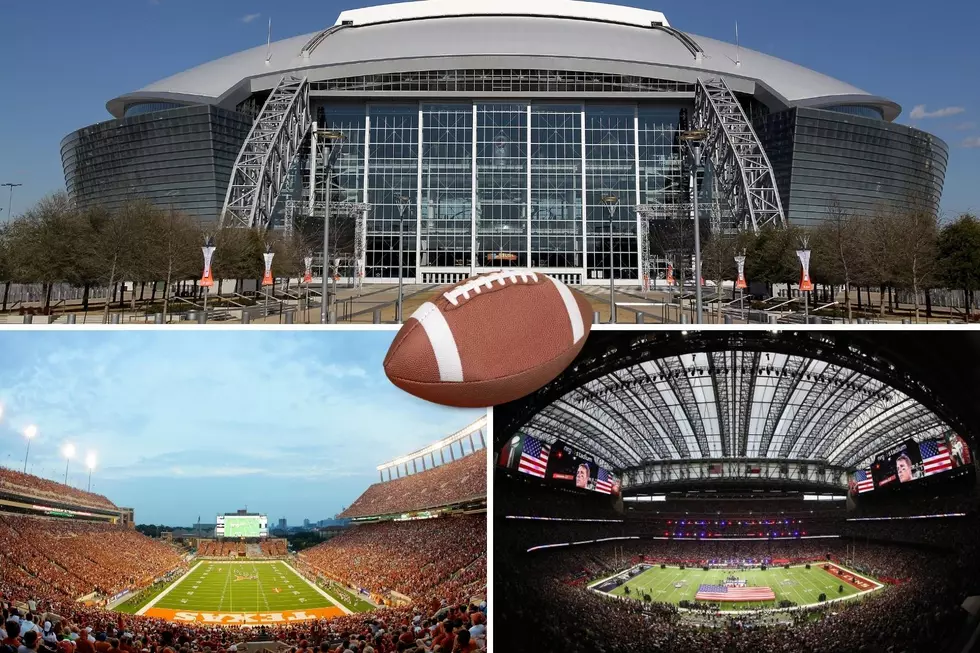 Watch Your Team At These Top 6 Biggest Football Stadiums in Texas
Although the weather may not always seem like it, the seasons do change. Fall time will be upon us in just a few weeks. Fall is the start of many things. The leaves begin to turn and fall from the trees. The weather cools down and the West Texas Fair and Rodeo comes to town.
For many though, the fall means only one thing. Football season. As a matter of fact, few things are bigger than football in Texas. If it's two things that I know are near and dear to Texans, it's Whataburger and football. You can almost feel the chill in the air whether it's a high school game under the Friday night lights, college games on Saturday, or professional ball on Sundays.
With football being so massive in Texas it only stands to reason that the state would have some pretty elaborate stadiums, and trust me, we do. Culture Trip selected some of the biggest football stadiums in Texas. You've got to lay your eyes on some of these marvels. Keep reading to discover these awesome, fan-favorite stadiums. Have you been to any of these?
Look: Watch Your Team At These Top 6 Biggest Football Stadiums in Texas
No matter whether it's a field or a stadium, Texas has some of the biggest and best around. Although built and designed with football in mind, most of these complexes are also used for other events such as moto-cross, rodeos, concerts, festivals and so much more.
Even though the above are among the biggest in Texas, they're certainly not the only stunning stadiums you'll see. High School football in Texas is red hot and so are the complexes. Keep scrolling to check out the most expensive high school stadiums in Texas.
Top 10: These Are Texas' Most Expensive High School Football Stadiums in '22
There's a reason every good high school football movie is based in Texas. Here in the Lone Star State Friday nights are revered and our young men in football pads exalted to legends in their hometowns. In fact as of last year, Texas is only second to Florida (by two players) as the state with the most players in the NFL.