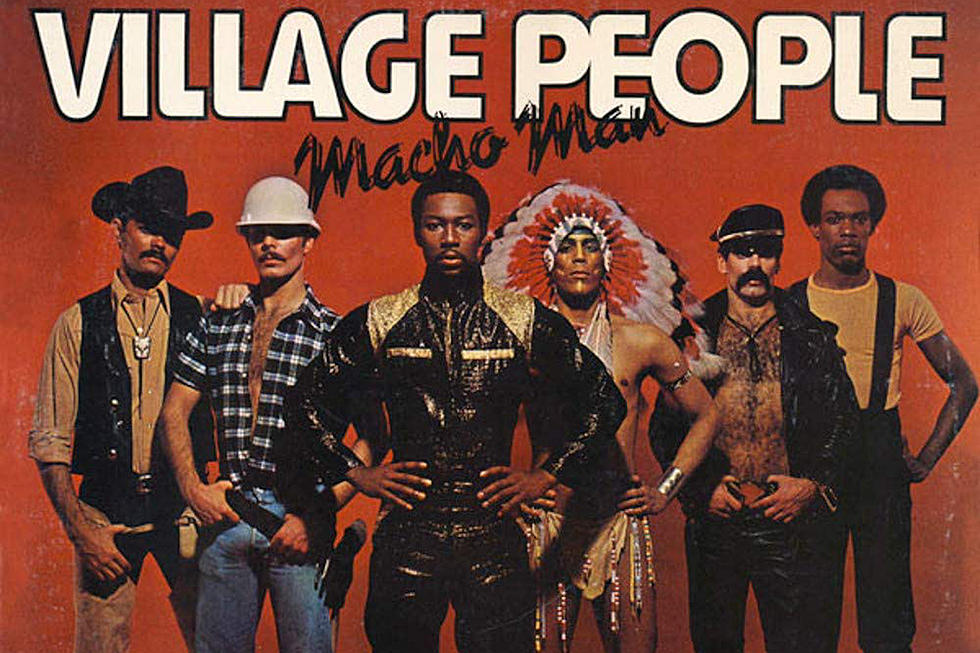 45 Years Ago: Village People Gets Macho
Casablanca
There may be no group in the history of popular music that was capable of pulling off the trick that Village People did.
Beginning with their album Macho Man, which debuted on Feb. 27, 1978, and marked the start of the group the way most people remember it, they embraced an unrepentantly gay identity – when that was a perilous thing to do – and simultaneously managed to write such catchy songs that even the most strident opponents of what they stand for have been happily singing along with them for decades.
The sexual politics of the 1970s were far more complex than many people remember. The Stonewall Riots of 1969 brought the systematic oppression of gay and lesbian people into the national consciousness for the first time, and by the early '70s, what had long been underground was beginning to be celebrated in the mainstream. In just a few years, the Kinks scored a Top 10 hit with "Lola" (about a young man who first resists and then embraces falling in love with a woman who may be transgender), cross-dressing and androgyny-embracing musicians like Lou Reed and David Bowie achieved superstar status, and movies like The Rocky Horror Picture Show became cult classics.
All of which is not to say that bigotry or homophobia somehow subsided: The AIDS epidemic, which began in the early '80s, was virtually ignored because it was seen as a "gay" disease, and it took decades for artists and celebrities to be comfortable coming out of the closet. So while there was a good deal of music that trod lightly around the outskirts of what people now call "queer identity," most of it did so in an arty or transgressive way, rather than as an appeal to the masses.
Watch a Music Video for 'Macho Man' From 1978
And then there were Village People.
The group was the brainchild of a pair of Frenchmen ­– Jacques Morali and Henri Belolo – and an American actor (and son of a Baptist preacher) Victor Willis. In 1977, Morali and Belolo, a producing team who had scored several hits in Europe, moved to New York City, determined to break into the U.S. market. They heard a demo tape from Willis, a working actor and singer who had been in the original production of The Wiz on Broadway, and were impressed enough with his voice to ask him to sing on a four-song album of disco songs they were producing.
This became the album Village People (named after the residents of New York's Greenwich Village, which at the time was a famously gay neighborhood). It spawned one minor hit – "San Francisco (You've Got Me)" – which broke into the Top 50 in the U.K. More importantly, the songs from the album became mainstays for DJs in dance clubs. The disco craze was on, and suddenly Village People was at the center of it.
Watch Village People's 'San Francisco (You've Got Me)' Video
But there was one small problem. Although the group was called Village People, there wasn't a group at all – only Willis and a bunch of studio musicians.
So Morali and Belolo went to work creating a group that could be Village People. They put ads in the Broadway trade papers saying "Macho Types Wanted" and developed a stage show involving men dressed up in what was either serious archetypes of American masculinity or costumed gay dreamboats out looking for a good time, depending on your point of view.
There was a Cowboy (Randy Jones), a guy dressed in seductive black leather (Glenn Hughes), a Native American (Felipe Rose), a cop (Willis), a construction worker (David Hodo) and a soldier (Alex Briley). Not everyone in the act was gay, but their music first caught on in "black, Latin and gay underground clubs," as Jones remembered in a 2008 interview with Spin, and there was no denying the joyous, goofy and subversive nature of their music.
Listen to Village People's 'I Am What I Am'
And it's this happy subversion that powers the 1978 album Macho Man.
Virtually every track on the LP combines straight-ahead disco beats and funky horn lines with tongue-in-cheek (or perhaps tongue on the floor) celebrations of the sexiness of men and their bodies, as well as full-throated defenses of gay identity. "It's so hot, my body… you'll adore my body, come explore my body" sings Willis on the album's title track (which would become one of the group's longest-lasting hits) before launching into the shouted refrain about being a "Macho Man."
The album also holds an homage to Key West (long known as a gay mecca) and a direct celebration of alternative identity, "I Am What I Am," which reads like a prequel to Lady Gaga's "Born This Way," written 30 years before that song. "To love is not a sin," Willis sings on that track, "I did not choose the way I am – I said, I am what I am!"
Watch the Muppets Perform 'Macho Man' in 1978
But the most fascinating thing about Village People is not that they recorded and performed these songs, but how quickly and permanently those became a part of mainstream American culture.
Almost immediately upon its release, the song "Macho Man" was everywhere. The Muppets sang it on The Muppet Show, and a parody "Disco Duck" appeared on a kids' record that Disney released in 1979. It appeared in innumerable movies and television shows in the following decades and was even used by Donald Trump at campaign events.
The song – as is the case with Village People's other hits – is so catchy that the content of its lyrics can be willfully misunderstood or simply ignored, but this doesn't change them. It simply proves that one of the best vehicles for transforming gay culture into mainstream culture is a disco beat, an undeniable chorus and a great stage show.
Top 200 '70s Songs
Counting down the Top 200 '70s Songs.