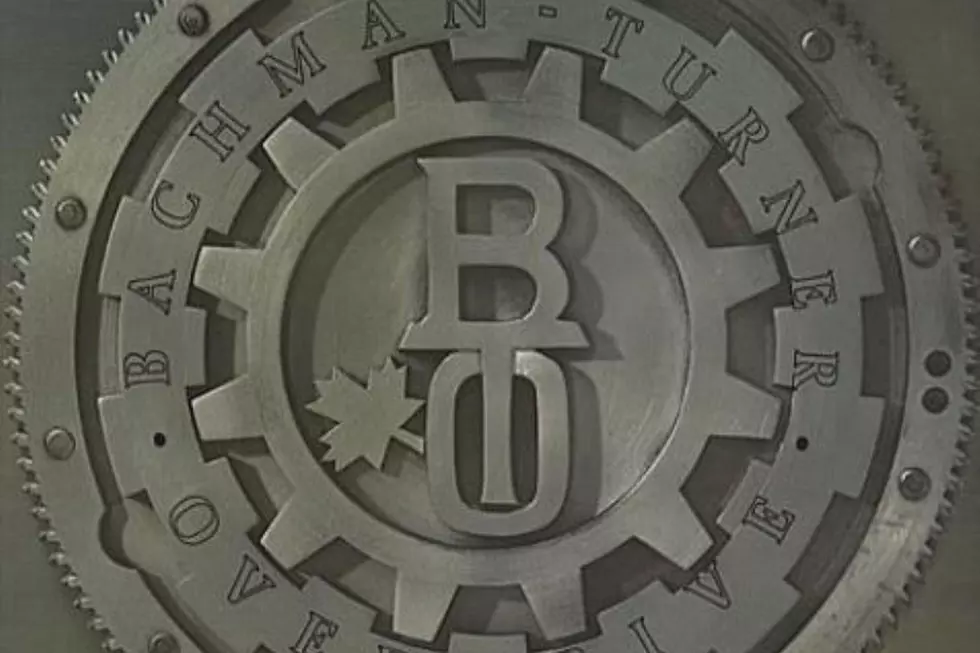 45 Years Ago: Bachman-Turner Overdrive Deliver Their Debut Album
Mercury
Before the chart success of Bachman-Turner Overdrive, guitarist Randy Bachman had already seen the highs and lows of rock and roll. Joining up with singer Chad Allen back in 1962, they formed a band that would eventually become the Guess Who. Bachman played on the band's early hits like "Shakin' All Over" and would write, or co-write many of their biggest hits such as "Undun," "No Time," and "No Sugar Tonight." It was after the chart-topping success of "American Woman" in early 1970 that Bachman opted to leave the group, at the time, citing conflicting spiritual issues and health problems as the reason.
Prior to leaving the band, Bachman had signed a solo deal with RCA and released an all-instrumental solo album, Axe. Then, in 1971, he formed a new band called Brave Belt, which initially included his old pal Chad Allen. Brave Belt made two solid albums for Reprise Records in 1971 and '72, and had recorded a third when the label rejected it. At the same time, Allen would leave the band, solidifying the lineup as Randy Bachman (lead guitar), his brothers Tim (rhythm guitar) and Robbie (drums) and C.F. Turner (bass).
While the first two Brave Belt albums had a more country-rock approach to them, by the third album, Bachman made a conscious attempt to take his music elsewhere. "When I left the Guess Who, they were the number one band with 'American Woman.' They had a string of five or six million sellers. I didn't have a great voice like Burton Cummings to sing the songs," Bachman told Rock Cellar in 2014. "Neil Young told me, "You can't be a second-rate Guess Who. It's just like me leaving Buffalo Springfield. I can't get five guys and try to do the same thing. It's gotta be something different." He sunk his own money, nearly $100,000, into the new recordings and tried to establish a new identity for his music.
Bachman shopped the record around, but was rejected over 20 times before Charlie Fatch at Mercury Records took a chance, and that happened by accident. "Charlie came back and was cleaning out his office and swept a whole bunch of tapes off of his desk and into the trashcan, and one tape fell on the floor and as he was picking it up to put it in the can, he saw my name on it, produced by Randy Bachman, Brave Belt 3," Bachman recalled in an episode of In the Studio.
"He called me, and it was playing in the background, he said they were having an A&R meeting that Saturday in Los Angeles, and he'd called me. Sure enough, he called me that Saturday and said, 'You've got a deal. How much have you got in this album?' And I said about $100,000. He said, 'Well we can't give you that much, but you can recoup it out of a couple of albums' and I said, 'Great!'"
The label was happy with their new signing except for one thing: they thought the band should have a new name. "There was three Bachmans and a Turner at the time, so we called ourselves Bachman-Turner, but we were getting very weird bookings," recalled Bachman. "At the time there was Seals & Crofts, Brewer & Shipley and we'd get booked as Bachman & Turner to play coffee houses. We'd set up this wall of amps and go and blow coffee mugs off the table with our music. They thought we were a folk duo." Taking a cue from a trucker magazine, Overdrive was added and thus BTO was officially born.
Despite this being the era of excess like Emerson, Lake and Palmer and the artful glam of Ziggy Stardust, Bachman-Turner Overdrive were blue-collar, gritty rock and roll to the core. The album opens with "Gimme Your Money Please," setting the template for the BTO sound. "Blue Collar" was released as a single, but failed to light up the charts, peaking at No. 68. "Hold Back the Water" and "Little Gandy Dancer" were no-frills rockers, while "Stayed Awake All Night" and "Don't Get Yourself in Trouble" took the heavy riffage and plugged it into an even heavier approach.
Within a year, the band's fortunes would change dramatically with their second album and first major hits, "Let It Ride" and "Takin' Care of Business." Though that first album had no hits, it would prove to be an important piece of the BTO story, eventually going gold after the big success of the next two albums.