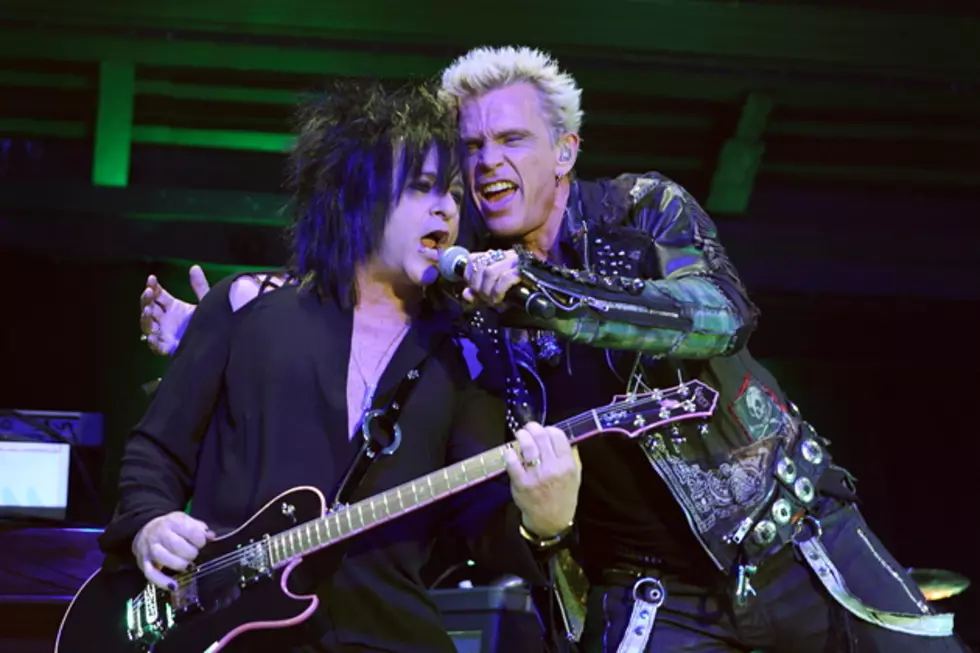 Billy Idol Rocks Casino Ballroom in Hampton Beach, N.H.
Mary Ouellette, SheWillShootYou.com
'Ready Steady Go' served not only as the opening tune for Billy Idol as he dominated a steamy Casino Ballroom in Hampton Beach, N.H. on June 2, but also the general vibe of the evening as the iconic rocker seamlessly coasted through the evening, making it look easy.
With signature sneers, gratuitous fist-pumps and studded leather jacket, Idol and his band ripped into a set that mixed timeless classics like 'Dancing With Myself' from Idol's Generation X days with new songs like 'Ghosts in My Guitar,' which was penned about reflecting back on the New York and London music scenes from years past. And while reflection seems to be prevalent throughout Idol's set, the dichotomy of mixing his iconic blockbuster hits with newer songs just goes to show that Idol still has a lot of creativity left in the tank.
Throughout the evening, Idol stood atop risers placed center stage elevating himself above the sold-out crowd to share in sing-alongs of monster hits like 'Eyes Without a Face' and 'Flesh for Fantasy.'
Not one to hog the spotlight, Idol took pause to recognize his band (Stephen McGrath on bass, Derek Sherinian on keys, Billy Morrison on rhythm guitar and Jeremy Colson behind the kit) and let his longtime partner in crime and guitar great Steve Stevens show off his chops during a guitar-solo that left a permanent mark.
While watching a bare-chested Idol rock his way through the set, it's hard to imagine that his vast career now spans a whopping three decades; clearly he's been vacationing at the fountain of youth because he doesn't seem to age.
The night ended with the explosive trio of 'Rebel Yell,' 'White Wedding,' and 'Mony Mony' putting the crowd into a tailspin and headed home dreaming of their next dance with Billy Idol.
Idol's North American tour run extends through the end of June with a stop at the Bonnaroo Music Festival, visit Billy Idol's official website for all the dates.
Photos of Billy Idol Live at the Club Casino in Hampton Beach, N.H.
You Think You Know Billy Idol?