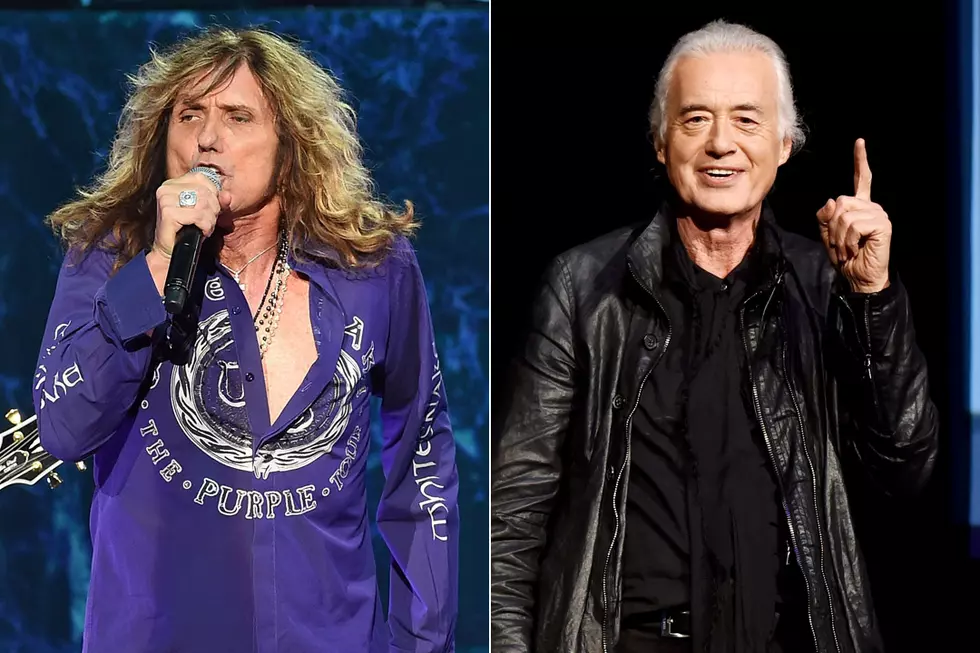 David Coverdale Feels Sorry for Jimmy Page
Ethan Miller / Kevin Winter, Getty Images
"The saddest thing for me, and my dear, dear, dear beloved friend Jimmy Page," he told Sweden Rock (via Blabbermouth), "I think one of the reasons he's explored the Zeppelin catalog so significantly is because he can't get the guys to commit to making a new record or touring."
As Coverdale sees it, there's a major difference between himself and Page in that Coverdale has a band together that is still able to move forward and make music. "Zeppelin's his baby, as Whitesnake is mine" he continued, "but I'm very happy to say I have a fabulous fresh chapter of Whitesnake. I'm still a recording entity and I'm still a touring entity."
Still, he's come up with a perfectly viable solution that could put Page back in front of the public without resorting to his past. "I've recommended to him for years to do what Carlos Santana did with Supernatural. Jimmy's got all these great songs. I said, 'I'm there for you. I'll do a couple of songs for you, without a doubt.' I said, 'Do something like Supernatural. At least you're playing.' It breaks my heart, 'cause he's such a f---ing valuable musician. With what he's already given to us, he doesn't really owe us anything, but I just know that he's still valid and relevant and can still play amazing guitar and write amazing songs. Where do you go after f---ing Led Zeppelin, dude? Where do you go?"
Coverdale added that the reissues were of the commercially successful trilogy of Slide It In, Whitesnake and Slip of the Tongue. "'Cause they're all coming up to these big-anniversary things now," he said, "so we're looking at all the additional — the demos, etc. — all of the additional material for the hardcore fan, be it video or audio. nd you can hear me writing the basic ideas of 'Still of the Night' and that kind of stuff. ... And we're finding alternate vocals, alternate guitar solos and stuff. It's a real fun journey. It's like being a musical archaeologist — digging up the past in order to get the dust off it and present it and put it in a museum as part of special editions. It really is exciting."
Led Zeppelin Albums Ranked Worst to Best