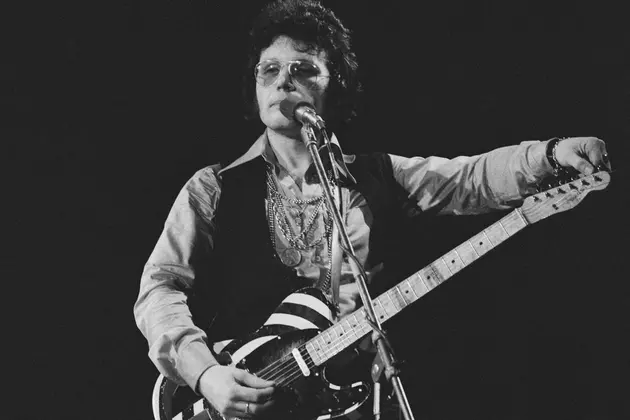 Man Guitarist Deke Leonard Dead at 72
Erica Echenberg, Getty Images
Deke Leonard, the guitarist and author who served several tours of duty with Man in addition to fronting his own group Iceberg, has died at the age of 72.
The South Wales Evening Post reports that Leonard had recently moved back to his hometown of Llanelli in Wales, where he lived with his "longtime partner Mary" and had been gigging with Son of Man, a group featuring an assortment of the band's original members playing alongside their children.
"He played his last gigs with Son of Man, and he was playing great, and singing great, and feeling positive," said George Jones, whose father, Micky, played guitar in the classic Man lineup. "He was saying he wanted to do something this year with Iceberg, and had been working on material. I feel like I have lost a parent. Deke was one of life's gents."
Leonard charted a fairly fluid musical path, departing and reuniting with Man on a number of occasions while convening and disbanding multiple incarnations of Iceberg. His most recent solo effort, Freedom and Chains, arrived in 2005.
In addition to playing on dozens of albums with Man, Iceberg and a slew of other musicians, Leonard was a prolific writer. After getting his start penning the liner notes for Man LPs, he embarked on a publishing career that included the books Rhinos, Winos & Lunatics: The Legend of Man, a Rock N' Roll Band, Maybe I Should've Stayed in Bed?, The Twang Dynasty – From Memphis to Merthyr, Guitarists That Rocked the World and Maximum Darkness: Man on the Road to Nowhere.
The Post lists no cause of death for Leonard, but he'd faced health issues in the past; he was sidelined from Man for a period in 1996, after he suffered what the band described as a "mild stroke."
Writer and producer Kevin Allen, a longtime friend, shared his own feelings in the wake of Leonard's death, telling the paper, "Deke was a true gentlemen of acid rock and he had a fantastic presence on stage. How on earth he survived that era to remain so erudite and engaging was a mystery. Deke was such an interesting, gentle and lovely person and he was part of a dying breed - he'll be really missed. And I don't think I ever saw a man polish off a packet of Embassy Regal with such aplomb as Deke Leonard."
Rocker Deaths: Artists We Lost in 2017