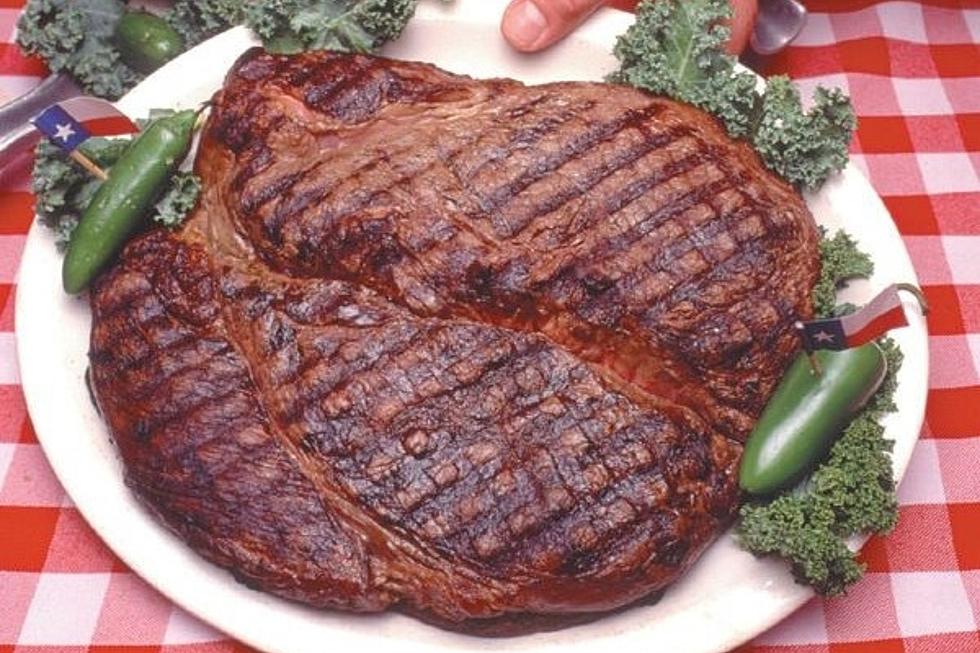 Eat This Texas Sized 72 Ounce Steak In One Hour And It's Free
Photo: The Big Texan Steak Ranch & Brewery/Facebook/Canva
If there's one thing I know about Texans it's that they love their beef. The Big Texan Steak Ranch in Amarillo knows too. Famous for its larger-than-life dining experience and its 72-ounce steak challenge (which reminds me of a family roast), this establishment has gained the attention of folks from all over the world.
The 72-ounce steak challenge is not for the faint of heart...or stomach. To complete the challenge, diners must consume a massive 72-ounce (4.5 pounds) steak, along with a baked potato, shrimp cocktail, salad, and a dinner roll. They have to finish the entire meal within one hour to earn the title of a Big Texan "Steak Champion."
LOOK: EAT THIS TEXAS-SIZED 72-OUNCE STEAK IN ONE HOUR AND IT'S FREE
This epic challenge attracts food lovers, competitive eaters, and thrill-seekers from all over the state and beyond. Challengers take their seats on a special stage, right in front of a cheering crowd.
If you're brave enough to take the challenge, you'll be met with a mammoth top-quality steak cooked as you like it. The Big Texan Steak Ranch takes pride in sourcing the finest cuts of meat and prepares them with care.
While only a few can take on the 72-ounce steak and beat it, everyone can enjoy the lively, old-west atmosphere of the Big Texan Steak Ranch. You'll find a full menu with options from hearty steaks to Tex-Mex dishes and barbeque. There's something to satisfy every taste.
So whether you're up for the challenge or simply want to indulge in a juicy steak, the Big Texan Steak Ranch in Amarillo won't disappoint. and is a must-visit destination for anyone seeking an unforgettable Texas dining experience.
In the meantime, you can find tasty food options on the go right here in Abilene. Look below for some of the best food trucks around.
Delicious Abilene Area Food Trucks