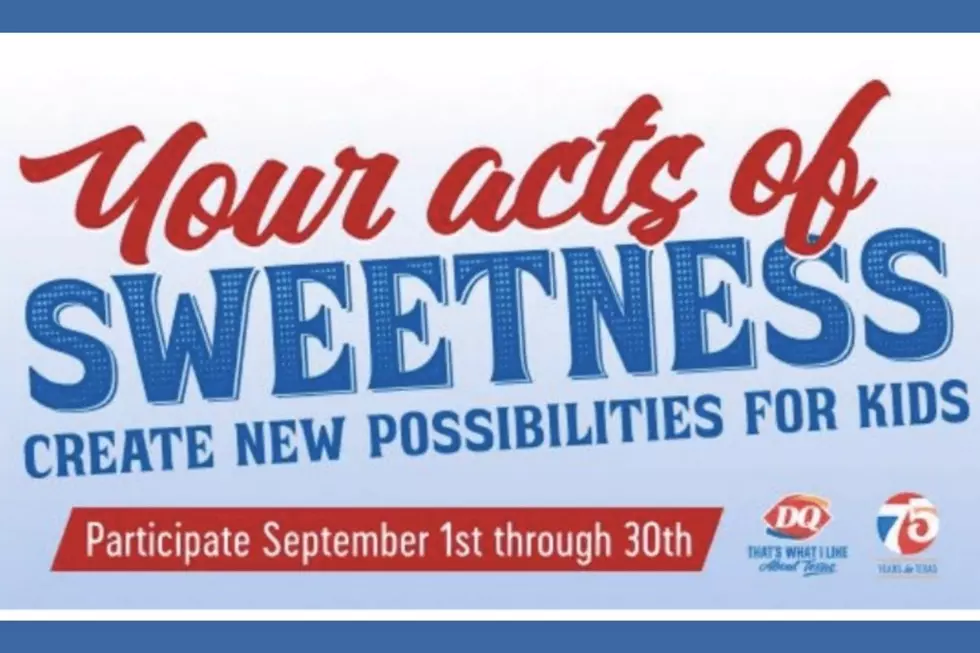 Enjoy a Blizzard Today and Help Children's Miracle Network with Acts of Sweetness
Photo: Dairy Queen/Canva
I'll be honest. As a father, one of the many things I enjoy about living here in Abilene is the fact that we're fortunate enough to have a children's hospital right in the city. Hendrick Children's Hospital. An amazing team of doctors and nurses doing amazing work. Children's Miracle Network is a big part of the hospital. From training to equipment, the Children's Miracle Network is a very important part.
I've always said it. You never know when it's going to be your child that needs the aid and services of Hendrick Children's Hospital. In fact, it happened to me. My son required a procedure when he was a toddler and directly benefited from the Children's Miracle Network. To me, Hendrick Children's Hospital is an important part of our community.
Dairy Queen Restaurants think it's important too. Introducing "Acts of Sweetness". For the entire month of September, DQ is donating $1 for every Blizzard Instagram post to the Children's Miracle Network. Giving back has never tasted so sweet.
Here's how it works. Now through September 31st, visit any Dairy Queen Restaurant and enjoy your favorite Blizzard Treat. Then, snap a picture and post it on Instagram. Be sure your profile is set to public and include the tag #ActsofSweetness and @DairyQueenTx in the post. The Texas Dairy Queen Operators' Council will then donate $1 for each post to children's hospitals in Texas including our own Hendrick Children's Hospital.
That's not all. Diary Queen will also match all online donations up to $75,000. Donating online is easy too and a great way to give the gift that's so important.
DQ has also unveiled their Blizzards of the Month. You can try the new fall line of flavors including:
Reese's Take 5 (pictured above)
Snickers Brownie
Very Cherry Chip
Oreo Hot Coca
Cinnamon Roll
Pumpkin Pie
It's a sweet way to give back. I don't have to tell you how expensive medical equipment can be. But, to see where your generosity goes, keep scrolling and check out some of the equipment that is made possible through your donations and the Children's Miracle Network.
Your Support Of CMN Helps Purchase Equipment Like This
By supporting the Mix With Kids Children's Miracle Network Radiothon, your dollars are being put to great use to purchase items like this to help children throughout the entire hospital system and not just CHRISTUS Mother Frances Hospital, but the clinics and ambulance services too