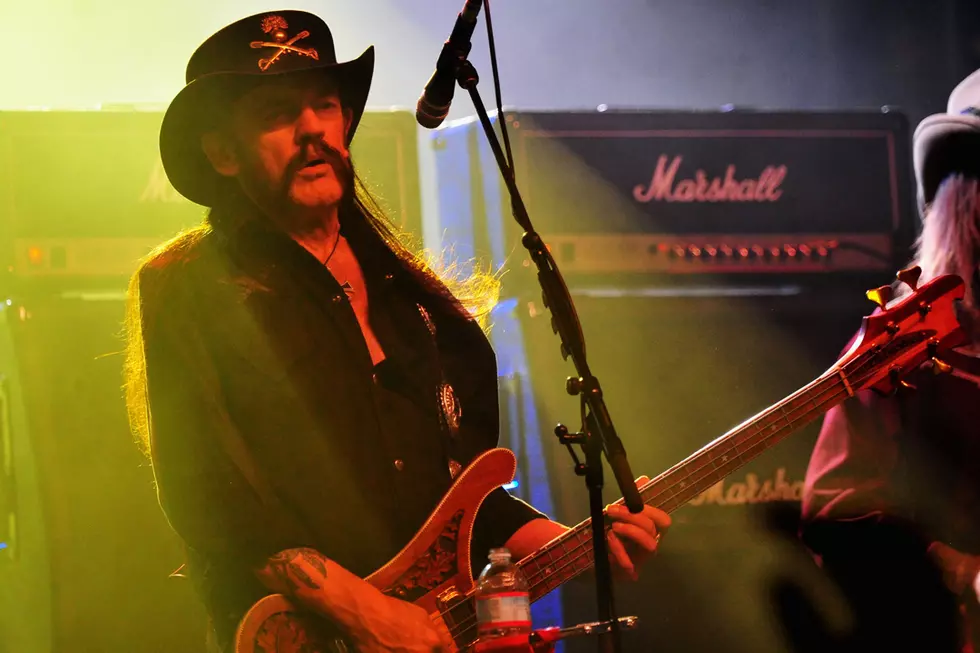 Lemmy Is "Feeling Much Better" After Latest Health Scare
Frazer Harrison, Getty Images
Motorhead fans who may have been worried that the cancellation of the band's appearance this past weekend at the Monsters of Rock Festival in Sao Paolo spelled a return to Lemmy Kilmister's recent health woes can breathe easier. The group issued a statement saying that all is well and that it was merely the result of something Lemmy ate.
As they wrote on their Facebook page, "Due to a food-related tummy problem, unfortunately, Lemmy was not able to perform the show in Sao Paulo. He is already feeling much better and ready to continue the South America dates! Next stop Curitiba! Lemmy regrets this mishap very much and is looking forward to making it up to all the fans."
Motorhead have only four concerts remaining on their South American tour. They have two more shows in Brazil this week, and they will then play in Buenos Aires, Argentina, and Santiago, Chile.
In the summer of 2013, Motorhead canceled a handful of shows after Lemmy, who has diabetes, suffered a hematoma. His initial attempt to return was unsuccessful, leaving the stage after only 30 minutes due to his inability to continue. Then they canceled an entire tour three weeks before it started in February 2014.
Last September, Lemmy said that he was still on the road to recovery but was feeling much better as a result of making a few lifestyle changes, such as giving up smoking (for the most part) and switching from his beloved Jack Daniel's to vodka. "If you're going to drink," he said, "that's the least harmful."
See Motorhead and Other Rockers in the Top 100 Albums of the '80s
Criminally Underrated Rock Albums