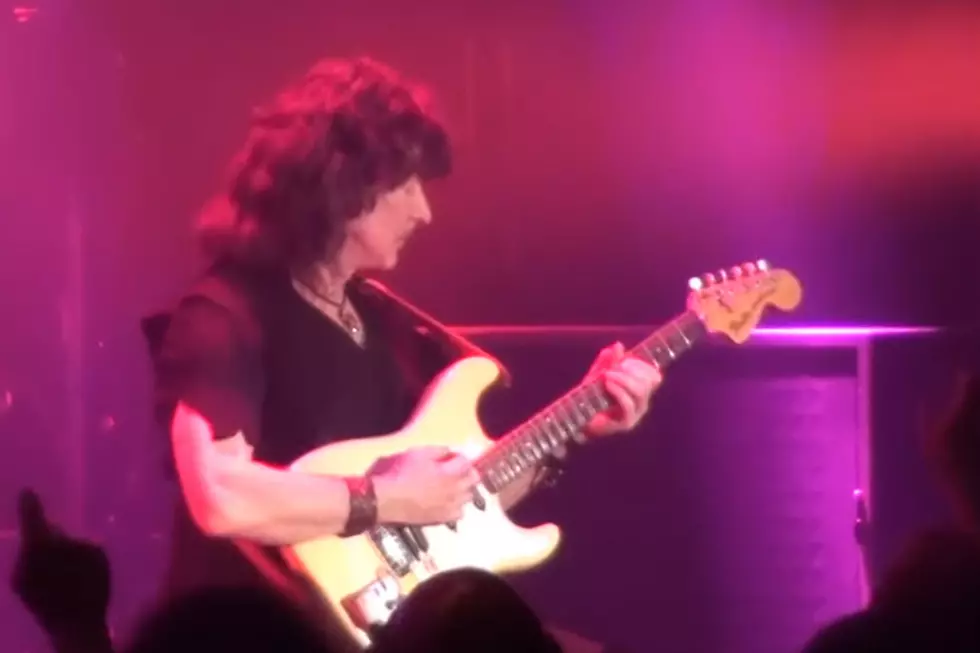 Rainbow Adds Two Deep Purple Classics to Set
YouTube
Ritchie Blackmore's first rock concerts in nearly 20 years concluded its 2016 program last night (June 25) with a performance by Ritchie Blackmore's Rainbow at the Genting Arena in Birmingham, England. We've embedded video above and below.
According to setlist.fm, he made a few changes to the set for the opening night in St. Goarshausen, Germany last week. He added two Deep Purple songs, "Soldier of Fortune" and "Burn," the latter of which wound up in the encore. Also, "Difficult to Cure" and "Catch the Rainbow" were switched, as were "Long Live Rock 'n' Roll" and "Child in Time." Solos by the keyboardist and drummer followed "Difficult to Cure."
Although last night's concert was the last of only three shows Blackmore booked under Rainbow's name -- his Renaissance music project Blackmore's Night will spend July and August in North America next month -- he used these shows as a test for the possibility of more shows down the road. ""I deliberately chose to only give three concerts, to see if I'm still able to do this," he said back in February. "If we enjoy ourselves and the audience gives us a positive vibe back, then I won't rule out the possibility of continuing. However, the second round of dates will probably take place in 2017. But the crucial factor will be the chemistry between the musicians and the audience reaction. ... But my heart will always belong to Renaissance music."
Ritchie Blackmore's Rainbow, Birmingham, England Setlist
1. "Over the Rainbow"/ "Highway Star"
2. "Spotlight Kid"
3. "Mistreated"
4. "Since You Been Gone"
5. "Man on the Silver Mountain"
6. "Soldier of Fortune"
7. "Difficult to Cure"
8. "Catch the Rainbow"
9. "Perfect Strangers"
10. "Long Live Rock 'n' Roll"
11. "Child in Time"
12. "Stargazer"
13. "Black Night"
14. "Burn"
15. "Smoke on the Water"
Watch "Over the Rainbow" Into "Highway Star"
Watch "Long Live Rock 'n' Roll"
See Deep Purple and Other Rockers in the Top 100 Albums of the '80s