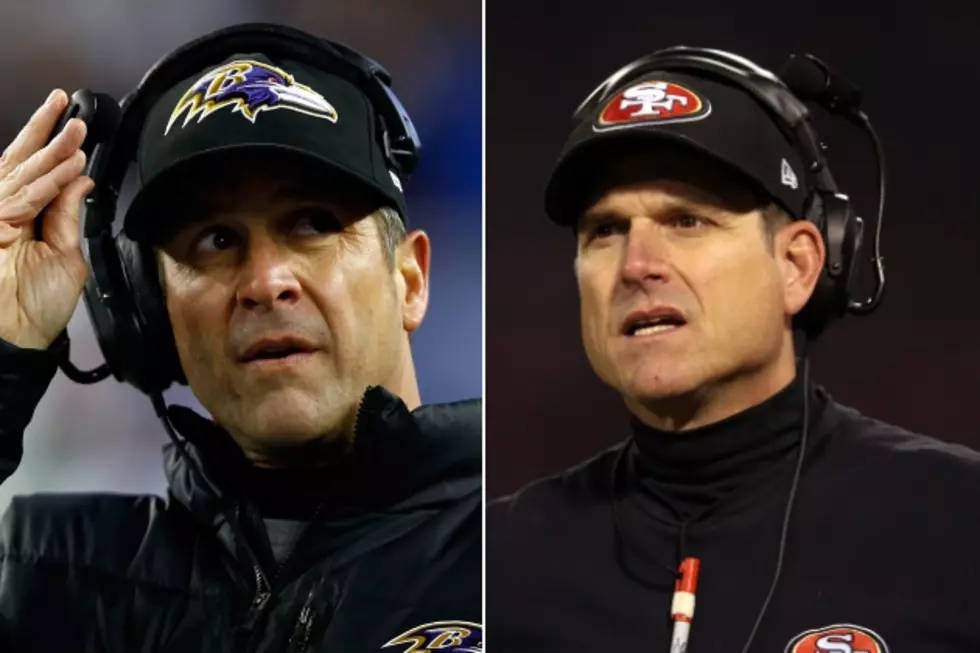 San Francisco 49ers and Baltimore Ravens Both Win to Set Up Super Bowl Match-up of Harbaugh Brothers – The Sports Report 1/21/13
Jared Wickerham-Stephen Dunn/Getty Images
The San Francisco 49ers went on the road to beat the Atlanta Falcons in the NFC Championship game on Sunday. Led by Joe Flacco and Ray Lewis, the Baltimore Ravens handled the New England Patriots in the AFC Championship game. The Niners and Ravens will meet February 3rd in the Super Bowl, a game many are calling the Har-bowl because the coaches of both teams are brothers; Jim and John Harbaugh.
NFL CONFERENCE CHAMPIONSHIPS...
San Francisco 28 – ATLANTA 24.. The 49ers rallied from an early 17-point deficit to upend the Falcons and return to the Super Bowl for the first time since 1995. Frank Gore's second touchdown run of the day was the go-ahead score with 8:23 remaining. Colin Kaepernick threw for 233 yards and a TD.
Baltimore 28 – NEW ENGLAND 13... The Ravens rolled past the Patriots to set up a Super Bowl showdown with the 49ers and a match-up between head coaches – and brothers - John and Jim Harbaugh. Joe Flacco found Anquan Boldin on two of his three touchdown passes. Ray Rice ran for a score.
NBA SCORES...
TORONTO 108 - L.A. Lakers 103... The Raptors held on to hand the Lakers their fifth straight loss. Jose Calderon led the way with 22 points. Landry Fields had 18 points and 10 rebounds.
Dallas 111 – ORLANDO 105... The Mavericks turned away a late run to down the Magic. Shawn Marion had team highs with 20 points and 10 boards. Dallas had six other players score in double figures.
DETROIT 103 – Boston 88... The Pistons recovered to beat the Celtics after blowing an 18-point lead. Andre Drummond came off the bench to score 16 points and lead six players in double figures. Greg Monroe had 15 points and 11 rebounds.
DENVER 121 – Oklahoma City 118 (OT)... The Nuggets outlasted the Thunder and snapped Oklahoma City's six-game winning streak. Kenneth Faried scored the go-ahead layup in overtime and finished with 16 points and 10 boards. Cory Brewer led Denver with 26 points. Oklahoma City got 37 points from Kevin Durant and 36 from Russell Westbrook.
NBA SCHEDULE...
Sacramento is at New Orleans...
Memphis hosts Indiana...
Minnesota is at Atlanta...
Charlotte hosts Houston...
Brooklyn is at New York...
Golden State hosts the L.A. Clippers...
San Antonio is at Philadelphia...
Chicago hosts the L.A. Lakers...
Washington is at Portland
NCAA TOP 25 MENS BASKETBALL...
#2 Indiana 67, NORTHWESTERN 59...
#14 NORTH CAROLINA STATE 66 – Clemson 62