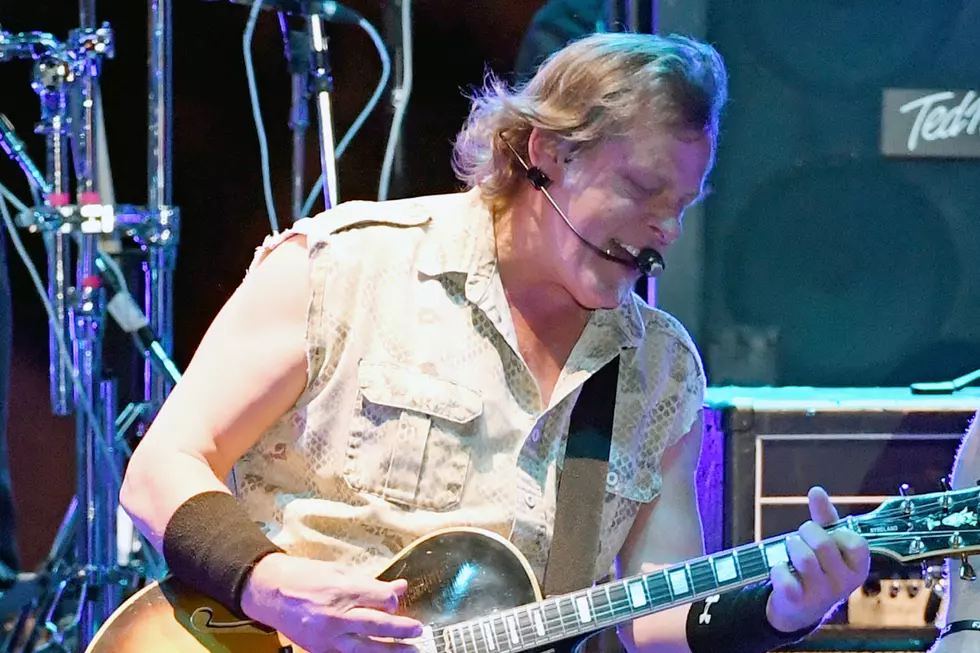 Ted Nugent Reveals Details for 'The Music Made Me Do It' Album
Ethan Miller, Getty Images
Ted Nugent's next album, The Music Made Me Do It, will be available on Nov. 9.
He's revealed the LP's track listing, artwork and the first single, the title track.
The Music Made Me Do It will be available as a CD/DVD combo, with the video consisting of a concert recorded at the Freedom Hill Amphitheatre in Sterling Heights, Mich.  The first 150 people to pre-order the album will receive a copy signed by Nugent, and each advance order will include an immediate download of "The Music Made Me Do It."
The video for the song was filmed on June 30 during Nugent's show at the Canyon Club in Agoura Hills, Calif. You can watch it below.
"All the new songs erupted from nonstop jam sessions just like they always have, intensely inspired by my love and craving of grinding, throttling rhythm driven guitar patters and licks," Nugent told us this summer. "The song titles say it all."
He added that he chose to spotlight "The Music Made Me Do It" for the title "not only because it is the most soulful, uppity, energetic, defiant soundtrack to the American Dream, but because it is needed and celebrated now more than ever to counter punch the pathetic soulless pop drivel running amok out there! ... The music made me do it, and I will forever unleash my creations for those real music lovers that still love it like we do."
You can see the track listing for the CD and DVD below.
Ted Nugent, 'The Music Made Me Do It' CD/DVD Track Listing
CD: 'The Music Made Me Do It'
1. "The Music Made Me Do It"
2. "Where Ya Gonna Run to Get Away From Yourself"
3. "Cocked, Locked & Ready to Rock"
4. "Bigfundirtygroovenoize"
5. "I Love Ya Too Much Baby"
6. "Backstrap Fever"
7. "I Just Wanna Go Huntin"
8. "Fred Bear"
9. "Sunrize"
10. "Sunrize Fender" (Fender Bass VI Solo)
DVD: 'Live at Freedom Hill, Sterling Heights MI'
1. (Feedback intro, affectionately named "Light My Campfire")
2. "Star Spangled Banner"
3. "Baby Please Don't Go"
4. "Free-For-All"
5. "Gonzo"
6. "Paralyzed"
7. "Wang Dang Sweet Poon Tang"
8. "Good Friends"
9. "(Blues Jam, affectionately named "Blues on the Grill")"
10. "I Need You Bad"
11. "Hey Baby"
12. "I Still Believe"
13. "Fred Bear"
14. "Motor City Madhouse"
15. "Cat Scratch Fever"
16. "Stranglehold"
17. "Don't Tread on Me"
18. "Great White Buffalo"