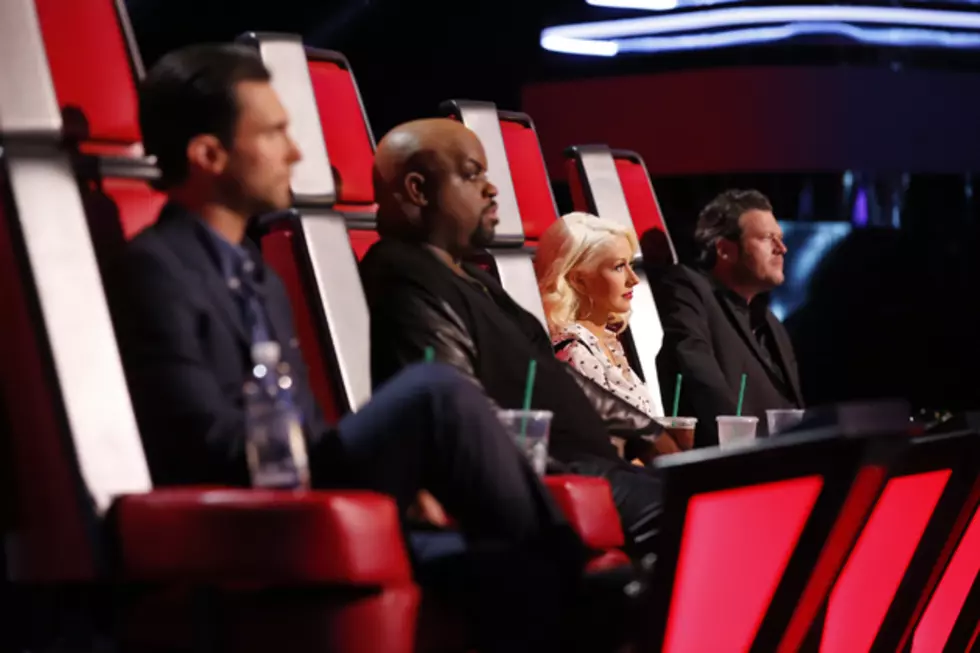 'The Voice' Recap: Kat Robichaud and Jacquie Lee Scream For Your Votes
NBC
Tonight the top 12 contestants took the stage for the second week of live rounds on 'The Voice.'
The show opened with Caroline Pennell taking on the massive summer hit 'Wake Me Up' by Avicii. Caroline was her usual adorable self, and although she struggled on a couple of the bigger notes, her performance was ultimately "wonderful," in the words of coach CeeLo Green. Caroline serves as an alternative to the many powerhouse/over-the-top pop singers on 'The Voice' and it will be interesting to see if America continues to support her toned-down vocals as the weeks go on.
During Josh Logan's coaching session with Christina, she mentioned that he needs to play down his ad-libs and runs, which he is becoming known for on the show and which might be alienating some of the viewers. Christina chose the Michael Jackson classic 'Man in the Mirror' for Josh's song. Although we haven't been huge fans of Josh in previous weeks, he did a great job with this performance, and even nailed the key change in the chorus flawlessly. Christina's advice for Josh (to be a little less technical) really did wonders for his voice. Nice one, Christina! The coaches all agreed that Josh took a big step in the right direction this week.
Next, James Wolpert took on 'Mr. Brightside' by The Killers, while his coach Adam Levine giddily rocked out from his seat. Although we prefer the softer side of James, his performance tonight proved that he can belt it out with the rest of them. "You just turned into a rockstar in front of our very eyes," said Adam, beaming like a schoolboy in love. CeeLo praised James as well, and noted that fans of the show have been commenting that the coaches have been too nice in their criticism… which is exactly what we have been saying. Does this mean CeeLo has been following along with our recaps? If that's the case, then we'd like to say: HI CEELO, we love you and your crazy outfits and your big crazy hat.
Blake gave Austin Jenckes' 'It's a Great Day to be Alive' by Travis Tritt. Austin said that he won't propose to his girlfriend until he's financially stable, which winning 'The Voice' would greatly help. With tonight's performance, Austin's lady might be one step closer to getting that ring on her finger. The coaches gave Austin big points for his ability to sings various styles and genres and for hitting the big note in his song.
Jacquie Lee, the youngest member of 'The Voice,' sang 'Love is Blindness' by Jack White. Although it's clear the girl can sing and that her voice is very mature for her young age, we're getting a bit tired of hearing her scream. If she makes it to next week, it would be a lovely change if coach Christina gave her something a bit more low-key where we weren't concerned that the glass in our place was about to shatter. Otherwise, ear plugs might be in order. Ouch.
Blake wanted singer Ray Boudreaux to show his softer side by singing 'All of Me' by John Legend. Ray expressed his apprehension over singing a song where he would feel very exposed, since he typically tackles numbers that are a bit more high-energy and less stripped down. But his fears were for naught, especially if the incessant screeches from young girls in the audience were any indicator. Blake, who expressed his attraction to the dreamy Ray, was very pleased with Ray's attempt at stepping out of his comfort zone. Christina felt Ray's performance didn't hit the mark, pitch-wise, and she was hoping for something more at this point in the competition.
Next up was Kat Robichaud, now famous (infamous?) for her stunt last week where she leaned over into the audience and gave a long hug to an unsuspecting audience member. CeeLo gave Kat another rock song to perform, choosing 'Sail' by Awolnation. Kat again played to the audience, this time crowd-surfing as she rocked and rolled. (Side note: We got to see Kat's husband standing in the audience, a skinny, awkward, bespectacled young guy with a bowtie. He looked sweet as pie, clearly a bit of a stark contrast with Kat's fiery and loud personality/look. Opposites really do seem to attract, in the case of Kat and her bow-tied husband. How cute.) Similar to Jacquie, we wish we could see a more low-key version of Kat as we're quickly growing tired of all the growls and over-the-top effort. Yawn. Shock us, Kat, please. Do something different next week, will ya?
Jonny Gray sang 'Another Day In Paradise' by Phil Collins. Jonny took the stage sans lucky hat. Risky move, Jonny. Jonny's voice is pleasant enough and there is something inherently likeable about the guy. But can he really make it all the way to the end of the competition, considering who he's up against? We think his chances are slim. Coach CeeLo liked his performance and went on some endless rant about songs being nourishment and food for our bodies, and we quickly lost interest. Sorry, CeeLo. But don't worry, we still love your Zorro costume.
Adam gave Tessanne Chin 'My Kind of Love' by Emeli Sande, and during his coaching session, compared Tessanne to Whitney Houston and Christina Aguilera. Although Tessane's performance was strong, was it Whitney strong? We think not. But then again, is anyone Whitney strong? Not really. Adam went on and on about how thrilled he was with Tessane's live performance, leaving us to wonder if her head might explode from having her ego stroked to no end.
Matthew Schuler was next with Leonard Cohen's famous 'Hallelujah.' This song has been covered approximately one million times, and Matthew can now join the ranks of all the artists who have come before him. As many times as this song has been done, Matthew still managed to do an original take on the song, and it was simply beautiful. We may have felt a goosebump. Or two. Voters better get it right this week and keep Matthew, because his performance was definitely the standout of the evening.
Adam Levine, self-conscious as ever, then made a quick costume change from his Mr. Rogers sweater to a more punk rock leather jacket, after receiving some flack from his fellow coaches. Way to not stand up for yourself, Adam! Personally, we liked the sweater better…
Back to the competition, where it was Cole Vosbury's turn. During their coaching session, Blake and Cole learned that they had a very unfortunate experience in common: they had both lost siblings in car accidents. Cole then sang 'Adorn' by Miguel, showing his soulful side and proving that he can pretty much do anything. We love Cole and feel confident he will be around for a while longer, which will make us very happy, as we're interested to see just how big and bushy that beard of his can get.
Finishing the show was Will Champlin, singing 'Demons' by Imagine Dragons. Will started off strong, but he lost us a bit with the last few screams at the end of the song. Can we just have one episode where everyone isn't screaming? Please? These singers all have great voices, and they shine so much brighter when they keep it simple, rather than making us frantically click the volume-down button on our remotes.
Voting is now open where you can vote to save your favorite singer (and if you want our advice, save Cole. Please save the beard!).