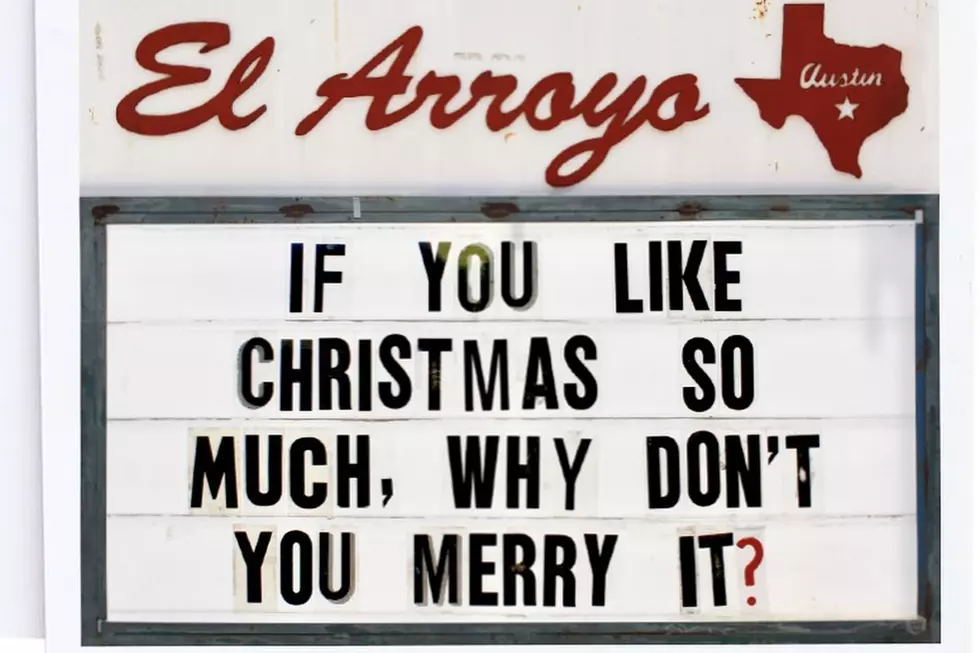 This Popular Texas Restaurant Sign Shares Hilarious Holiday Messages
Photo: El Arroyo/Facebook
Have you seen this sign before? I'm sure most of us have. It's been a social media favorite for years. El Arroyo is an historic Mexican-food eatery in Austin, with an outdoor sign that's grabbed the attention of patrons and people worldwide.
In business since 1975, the restaurant has plans to expand its brand in the coming months, according to a report from My San Antonio. El Arroyo's sign, which attracts as much attention as its food, changes almost daily. Sometimes funny, sometimes blatant, the messages on El Arroyo's sign have been putting smiles on faces for decades.
Not even the holidays are safe from the sign having its say. If you're in the mood for a holly-jolly giggle, check out some of the Christmas-themed messages below.
LOOK: THIS POPULAR TEXAS RESTAURANT SIGN SHARES HILARIOUS HOLIDAY MESSAGES FOR ALL
That sounds about right in this day and age.
---
I'm not sure if Christmas Adam has the same ring to it.
---
Now this is one I can get behind.
---
Absolutely, time to celebrate.
---
I know some folks who would agree with this.
---
Sounds like great advice to me.
---
Ain't it the truth?
---
You know what they say about opinions.
---
Forget Match and Tinder. Break out your naughty list.
---
I'm sure for some this is 100% accurate.
---
Sounds like a good plan to me.
---
I don't think truer words have ever been spoken.
---
Count me in on that deal too.
I'm willing to bet at least one of those put a smile on your face. With El Arroyo expanding its business, the question remains: will Abilene ever see this popular sign within its own city limits? That's entirely possible as the owners, Ellis and Paige Winstanley, are scouting for new locations in Texas as part of their expansion.
In the meantime, there are plenty of tasty tacos already nearby. Look below for some delicious local options.
LOOK: These Tacos Are What You'll Find In Abilene
If you love tacos then you're in luck because Abilene has lots of places to find some tasty tacos