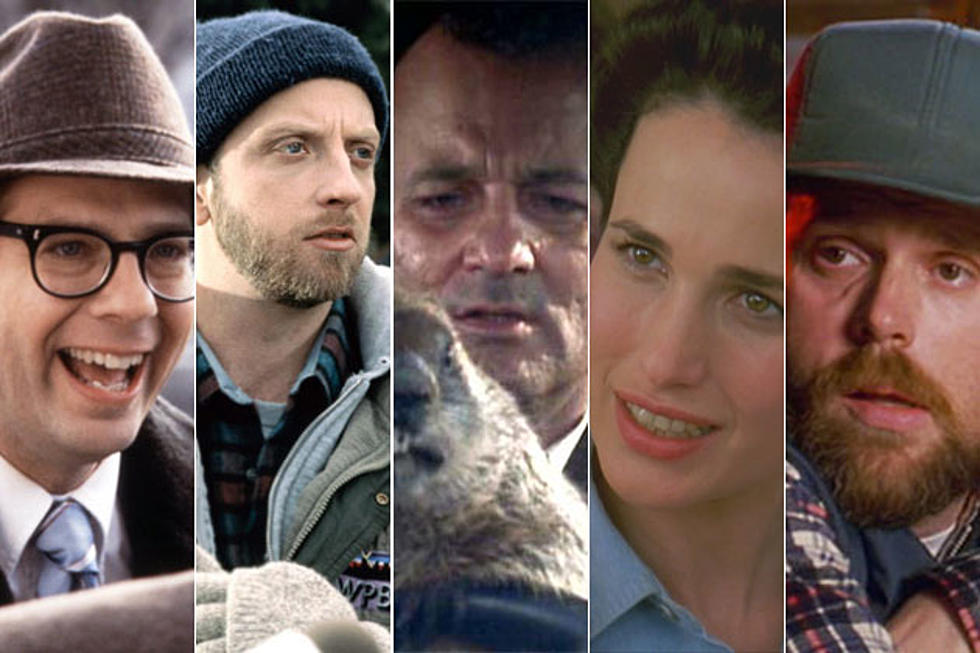 See the Cast of 'Groundhog Day' Then and Now
Columbia Pictures
When it was released in 1993, 'Groundhog Day' was only a modest success at the box office. But thanks to a hilarious lead performance from Bill Murray, an original script cowritten and directed by Harold Ramis and a cast that includes familiar faces like Chris Elliott and Andie MacDowell, it has gone on to become a comedy classic.
Of course, we all know what Bill Murray has been up to lately. (Answer: whatever he darn well pleases.) But what about the actors who played Rita, Ned and all the other memorable characters? And did you know that an Oscar-nominated actor got his start in the film? Take a look at what the cast of 'Groundhog Day' is up to now.
Bill Murray, Phil Connors
Then: In 1993, Bill Murray was one of the biggest comedy stars in the world, coming off of the hits 'Ghostbusters II' and 'What About Bob?.' Though he wasn't the first choice to play Phil Connors (Ramis originally wanted Tom Hanks), his distinctive comedic sensibility helped to make the role iconic.
Now: As always, Bill Murray is wherever he wants to be these days. (Usually that means the golf course.) One of Hollywood's most respected (and mercurial) actors, Murray has segued into a dramatic acting career thanks to acclaimed turns in films like 'Rushmore' and 'Lost in Translation.' He most recently popped up opposite Mickey Rourke in 'Passion Play,' and is rumored to be starring in 'Ghostbusters III.' If he feels like it, that is.
Andie MacDowell, Rita
Then: Coming off the infamous Bruce Willis bomb 'Hudson Hawk,' 'Groundhog Day' cemented Andie MacDowell's status as "likeable Southern gal next door who plays opposite the wacky guy." (See 'Multiplicity,' 'Four Weddings and a Funeral,' and pretty much every movie she's starred in since.)
Now: Andie MacDowell's hair appears regularly on TV in L'Oreal shampoo ads, while the actress herself has kept busy on the small and big screen with turns in 'Lone Star' and 'Footloose.' She recently joined the cast of the ABC Family show 'Jane By Design' as a 'Devil Wears Prada'-esque fashion maven.
Chris Elliott, Larry
Then: 'Letterman' regular and 'Get a Life' star Chris Elliot played deadpan cameraman Larry.
Now: Elliott followed up 'Groundhog Day' with 'Cabin Boy,' a cult comedy that sadly sank his big screen career. He's remained a reliably hilarious presence on television ('How I Met Your Mother,' 'Eagleheart') and is the father of 'SNL' cast member Abby Elliot.
Stephen Tobolowsky, Ned Ryerson
Then: Character actor Stephen Tobolowsky played the highly quotable ("Bing!") insurance salesman Ned "Needlenose Ned" Ryerson who Phil keeps running into on his never-ending day.
Now: One of the hardest working "That Guy" actors in Hollywood, Tobolowsky is a regular presence on shows like 'Glee' and 'Californication.' He also hosts 'The Tobolowsky Files,' a podcast where the actor tells stories about his life and roles in everything from 'Groundhog Day' to 'Memento.'
Brian Doyle-Murray, Buster
Then: Coming up through Second City with his younger brother Bill, Brian Doyle Murray scored roles in 'National Lampoon's Christmas Vacation' and 'Wayne's World' before playing Gobbler's Knob MC and Punxsutawney Phil wrangler Buster.
Now: Like his fellow Murray brothers (Joel and John are also actors), Brian continues to pop up on TV ('The Middle') and on film ('Passion Play'). You might also recognize him as the voice of The Flying Dutchman on 'Spongebob SquarePants' and jolly Captain K'nuckles on 'The Marvelous Misadventures of Flapjack.'
Marita Geraghty, Nancy
Then: Geraghty played Nancy, the peppy Punxsutawney Phil fan who Phil tries to get into bed over and over again.
Now: Despite turns in 'Sleeping With the Enemy' and the '90s post-apocalyptic Fox sitcom 'Woops!,' Geraghty never managed to score another role as memorable as Nancy. She has two kids with Broadway actor Michael Maguire, and most recently appeared on the TV series 'The Ex List.'
Michael Shannon, Fred
Then: Michael Shannon made his big screen debut as Fred, one half of the couple who Phil helps before their wedding day. (You might remember his exuberance over Phil's gift of Wrestlemania tickets.)
Now: Shannon went on to great acclaim as a stage actor ('Killer Joe') before scoring an Oscar nomination for his role in 'Revolutionary Road.' (He's also slated to play General Zod in the upcoming Superman reboot.) While known for his intense roles in 'Boardwalk Empire' and 'Take Shelter,' Shannon recently showed that he has an affinity for the adorable as well. No word on whether he's still a Wrestlemania fan.
Rick Overton
Then: An up-and-coming comedic actor at the time that he played town drunk Ralph, Overton appeared opposite Jennifer Aniston on the short-lived Fox sketch show 'The Edge.' He also wrote for 'Dennis Miller Live,' and turned up as Rufus in the TV version of 'Bill and Ted's Excellent Adventure.'
Now: 'Office' fans might remember Rick as Pam Beesley's dad on several episodes. He also stars on the upcoming CBS action comedy 'CHAOS.'
Willie Garson
Then: Garson had a brief but memorable role in 'Groundhog Day' as Phil's nebbish-y assistant at the news station.
Now: While he's perhaps best known as Carrie's gay bestie Stanford on 'Sex and the City,' Garson has appeared in tons of other shows and currently plays Mozzie on USA's 'White Collar.'
Harold Ramis, Neurologist (also Co-writer and Director)
Then: In addition to being the director and co-writer, Ramis appears in a brief cameo in 'Groundhog Day' as the doctor who attempts to help Phil with his unique problem.
Now: One of Hollywood's top filmmakers, Ramis continues to produce and direct quirky comedies like 'The Ice Harvest' and 'Year One.' He's also committed to appearing in 'Ghostbusters III' -- provided Murray agrees to it, of course.