New Netflix Instant Releases: May 2017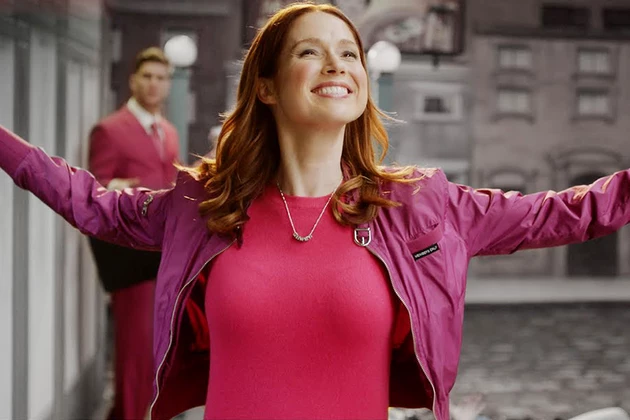 The ratio of Netflix Originals to acquired content continues to skew more toward the former each month, and May is absolutely stacked with fresh original films, comedy specials and TV shows — including new season premieres of some of our favorite series, like Unbreakable Kimmy Schmidt, Master of None (finally!), Sense8, Bloodline, House of Cards and more. As for original films, next month's additions include War Machine, along with specials from beloved comedians like Maria Bamford and Tracy Morgan.
Of course, that doesn't mean you won't find plenty to love outside of Netflix's ever-growing slate of original content: May brings the first season of Riverdale (aka the Hot Archie Show), which means you won't have to wait long to catch up with (or revisit) The CW's latest hit series. New film additions include last year's indie fave Don't Think Twice and Marvel's Doctor Strange. Read on for the full list of new titles hitting Netflix Instant in May.
As a bonus, if you don't feel like reading (ugh, life is hard sometimes, I get it), Netflix has released a special trailer to promote their May lineup:
Subscribe to 100.7 KOOL FM on
May 1
American Experience: The Big Burn (2014)
American Experience: The Boys of '36 (2017)
Anvil! The Story of Anvil (2008)
Blood on the Mountain (2016)
Chaahat (1996)
Chocolat (2000)
Decanted (2016)
Don't Think Twice (2016)
Drifter (2017)
Forrest Gump (1994)
Happy Feet (2006)
In the Shadow of Iris — Netflix Original Film
Love (2015)
Losing Sight of Shore (2017)
Malibu's Most Wanted (2003)
Nerdland (2016)
Raja Hindustani (1996)
Richard Pryor: Icon (2014)
Under Arrest: Season 5 (2016)
May 2
Bodyguards: Secret Lives from the Watchtower (2016)
Hija De La Laguna (2015)
Maria Bamford: Old Baby — Netflix Original
Two Lovers and a Bear (2016)
May 5
Chelsea: Season 2 (streaming every Friday) — Netflix Original
Handsome: A Netflix Mystery Movie — Netflix Original Film
Kazoops!: Season 3 — Netflix Original
Sense8: Season 2 — Netflix Original
Simplemente Manu NNa — Netflix Original
Spirit: Riding Free: Season 1 — Netflix Original
The Last Kingdom: Season 2 — Netflix Original
The Mars Generation — Netflix Original
May 6
Cold War 2 (2016)
When the Bough Breaks (2017)
May 7
LoveTrue (2016)
Stake Land II (2016)
The Host (2013)
May 8
Beyond the Gates (2016)
Hunter Gatherer (2016)
May 9
Norm Macdonald: Hitler's Dog, Gossip & Trickery — Netflix Original
Queen of the South: Season 1 (2016)
All We Had (2016)
May 10
El apóstata (2015)
The Adventure Club (2016)
May 11
Switched at Birth: Season 5 (2017)
The Fosters: Season 4 (2016)
May 12
All Hail King Julien: Exiled: Season 1 — Netflix Original
Anne with an E: Season 1 — Netflix Original
Get Me Roger Stone — Netflix Original
Master of None: Season 2 — Netflix Original
Mindhorn — Netflix Original Film
Sahara — Netflix Original Film
May 15
Command and Control (2016)
Cave (2016)
Lovesong (2016)
Sherlock: Series 4 (2016)
The Intent (2016)
May 16
Tracy Morgan: Staying Alive — Netflix Original
The Break-Up (2006)
The Place Beyond the Pines (2012)
May 18
Royal Pains: Season 8 (2016)
Riverdale: Season 1 (2016)
May 19
BLAME! — Netflix Original Film
Laerte-se — Netflix Original
The Keepers: Season 1 — Netflix Original
Unbreakable Kimmy Schmidt: Season 3 — Netflix Original
May 21
What's With Wheat (2017)
May 22
Inglourious Basterds (2009)
They Call Us Monsters (2017)
May 23
Hasan Minhaj: Homecoming King — Netflix Original
Dig Two Graves (2014)
May 24
Southpaw (2015)
May 26
Believe (2016)
Bloodline: Season 3 — Netflix Original
I am Jane Doe (2017)
Joshua: Teenager vs. Superpower — Netflix Original
War Machine — Netflix Original Film
May 28
Bunk'd: Season 2 (2016)
May 29
Forever Pure (2016)
A New High (2015)
May 30
F is for Family: Season 2 — Netflix Original
House of Cards: Season 5 — Netflix Original
Marvel's Doctor Strange (2016)
Masterminds (2016)
Sarah Silverman A Speck of Dust — Netflix Original
Coming Soon:
Supergirl: Season 2 (2016)
Supernatural: Season 12 (2016)
The Flash: Season 3 (2016)

Source:
New Netflix Instant Releases: May 2017