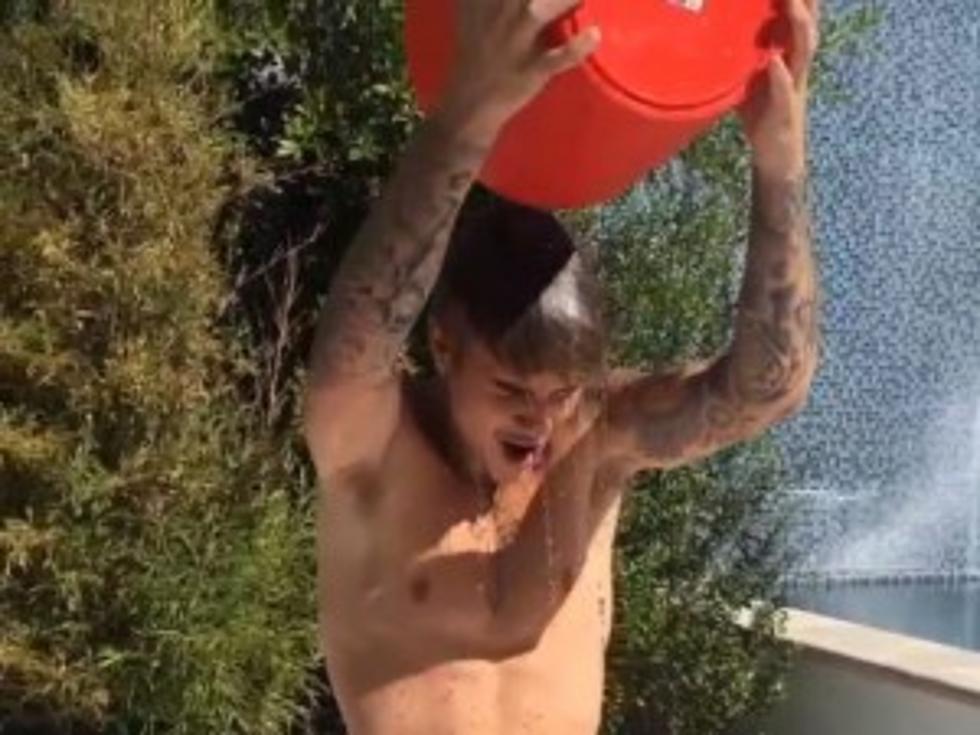 A Massive Roundup of Over 25 Celebrities Accepting the ALS "Ice Bucket Challenge"
YouTube
By now you've seen all your friends take the "ALS Ice Bucket Challenge"...and there's a good chance you've done it yourself.  But this weekend, videos of celebrities doing it started hitting the web.  BIG TIME.
Here's a roundup of some of the better ones I saw:
1.  Selena Gomez did it with some weird, horror-movie style lighting...and here are her nominations.
2.  Justin Bieber did it TWICE...perhaps because the first time he used a very small bucket. And both times he did it he showed off his body. Naturally.
3.  Blake Shelton drenched Carson Daly on the set of "The Voice", and then Carson did the honors for Blake. Then, they both dropped a cooler full of ice water on Adam Levine.
Carson gets soaked at the :45 mark; Blake gets it at 1:19; and Adam has the best reaction at 2:04. Carson called out some boy bands. Blake called out Gwen Stefani and Pharrell.  Adam called out "Avengers" stars Robert Downey Jr. and Mark Ruffalo.
4.  Gwen Stefani dumped water on Jessica Alba while Gwen's husband Gavin Rossdale, their five-year-old son Zuma, and Nicole Richie were simultaneously being drenched.  And...here's Gwen accepting her ice water from Blake Shelton.
5.  Jennifer Lopez had some helpers drench her, including her six-year-old twins, Max and Emme.
6.  Keith Urban did it in Kansas City.
7.  Carrie Underwood and her husband Mike Fisher completed the challenge...using construction equipment to dump ice water on their heads.
8.  Remember that boy band Emblem3 from "X Factor"? Well, two of the dudes did the challenge NAKED...with their hands covering their naughty parts.  (It keeps getting taken down, so Google it.  But as of this morning, this, this and this worked.)
9.  Taylor Swift did NOT curse any ex-boyfriends while doing the ice-bucket challenge, but that would've been amusing. She did it with Jaime King and a bunch of others. Kudos to them for actually donating for all of them.
10.  Lena Dunham did it with her new blonde hairdo in a one-piece bathing suit.
11.  Chris Pratt drank "Blue Ice" vodka and a Smirnoff Ice in lieu of drenching himself...but he got the ice water at the end anyway. And a lot of it.
12.  Here's Guy Fieri, getting the gel washed out of his hair.
13.  Jon Bon Jovi did it in someone's backyard. Interestingly enough, he challenged Richie Sambora...who he's seemingly been at odds with over the past year and a half.
14.  Bret Michaels did it at a show with a ton of fans behind him. He only had a small bucket poured on him...perhaps so it wouldn't dislodge his bandana.
15.  Wrestler Triple H reminded people to donate before dousing himself.  Vince McMahon was one of his nominations...and Vince followed through.
16.  Bill Gates looked pretty nerdy in the very elaborate video he made for his challenge.  One of the people he nominated was billionaire Elon Musk...and he followed through, with an equally nerdy approach.
17.  Oprah Winfrey claimed she was ready for the ice...but her challenge may have sent her into shock.
18.  Steven Spielberg nominated George Lucas and J.J. Abrams.
19.  Lance Bass did it on a swing...rocking an interesting hairdo.
20.  LeBron James did it on a yacht at sea...he nominated his sons and President Obama.  And here's Team USA basketball doing it.
21.  86-year-old Ethel Kennedy also did it, although she had trouble raising the bucket over her head. She also nominated Obama. Her video is pretty epic...it shows a whole SLEW of Kennedys doing it in a line.
However, President Obama is one of the few people to REJECT the ice bucket. The White House released a statement saying, quote, "The President appreciates Mrs. Kennedy thinking of him for the challenge. Though his contribution to this effort will be monetary.  The President will be making a donation to an ALS charity this week."
22.  Florida Georgia Line accepted their challenge in the middle of a concert...and here's Darius Rucker getting his. And while we're talking country, here's Tim McGraw screaming as he gets the ice.
23.  Lil Wayne challenged ALL his fans to do it before getting brisk himself.
24.  Demi Lovato got hit with multiple buckets...FIVE to be exact.
25.  And if you missed it last week, here's Conan O'Brien pretending to misunderstand the challenge...and thinking that if he had the ice dumped on him, ALS would pay HIM.
(You can find even MORE here, here...and basically everywhere online.)