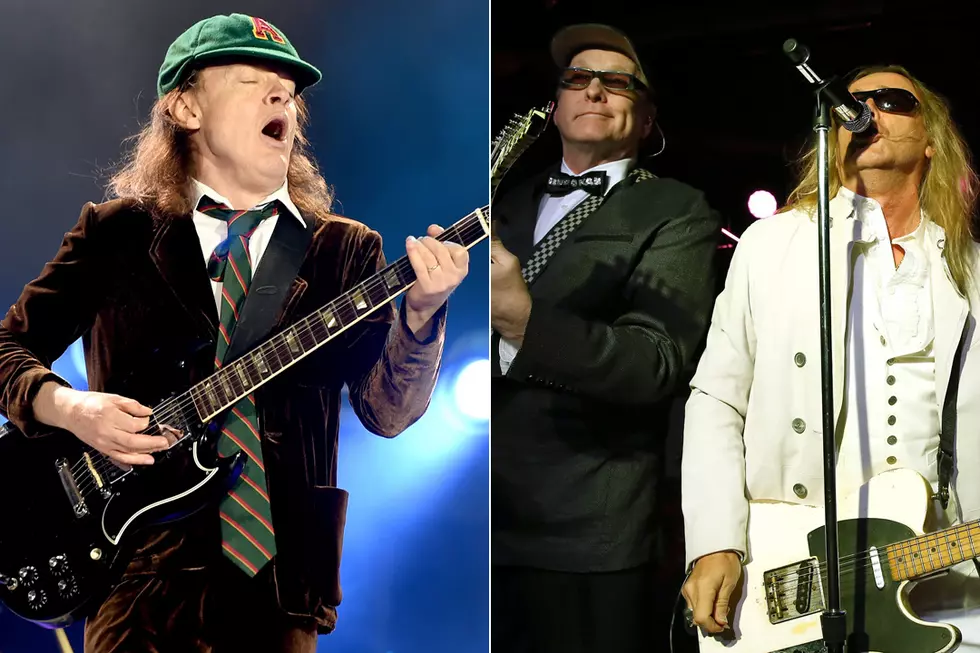 The Night AC/DC, Cheap Trick and Michael Schenker Group Members Formed a Supergroup: Exclusive Book Excerpt
Kevin Winter / Neilson Barnard, Getty Images
Having spent 45 years in rock 'n' roll, Chris Glen -- bassist for the Sensational Alex Harvey Band, Michael Schenker Group and other acts -- has amassed more than his share of stories.
He's collected them in the upcoming book Chris Glen: The Bass Business, which will be published April 14. We have an exclusive excerpt, which describes a drunken, chaotic evening in which Glen found himself onstage with members of AC/DC and Cheap Trick.
The book was co-written by Ultimate Classic Rock contributor Martin Kielty, who tells us that the night in question took place when Glen and drummer Cozy Powell were playing with Schenker.
"MSG had just finished a tour with Molly Hatchet, and we were about to do Canada with Cheap Trick," Glen explains. "Seattle in America is a bit like Crewe in Britain – all trains seem to go through there, and all bands seem to go through there. So we were in this club in Seattle, and Cheap Trick were there, and AC/DC were there too – they had the same management as Michael. Angus Young is a tea drinker now, but I think back then he was still up for anything. So that's what we were drinking ... anything!
"We were all sat across six tables and there had been a band playing. The manager of the place said, 'Come on, some of you guys play a song,' and Cozy went, 'Okay, who's up for it?' It was really a case of, 'Who can still stand up?'
"So it was Cozy, me, Rick Nielsen, Robin Zander and Angus. We were just getting up and Angus decided he wanted to play drums, so Cozy said, 'Right, let's not play our real instruments!' I'd already gone to pick up the bass, but Cozy said, 'No, I'm playing the bass. You play the guitar.' Rick and Robin were happy because there were keyboards and a microphone.
"We did 'Highway to Hell,' but the whole thing was a clusterf--- ... Angus was trying to show me the chords while we did it. At one point he took my right arm and held it up the guitar neck to do the fingering!
"He could hold a beat and Rick was singing, and the bass is just bump-bump-bump, which was no problem for Cozy. But I was f---ing terrible. I remember at the end the crowd went wild – or maybe they were just angry. We said 'Thank you!' but we meant 'Thank you for putting up with us.'
"Common sense prevailed and we didn't do another song. But by that time, all the girls in the room had found out who we were, so that looked after itself. I just about remember thinking, 'This is one for the book ... ' and here we are!"
Chris Glen: The Bass Business includes a foreword by Eric Singer of Kiss and introductions by Nielsen, Schenker, John Corabi and others. You can pre-order a signed limited-edition hardcover book and a signed paperback at Kielty's website.
AC/DC Albums Ranked Worst to Best