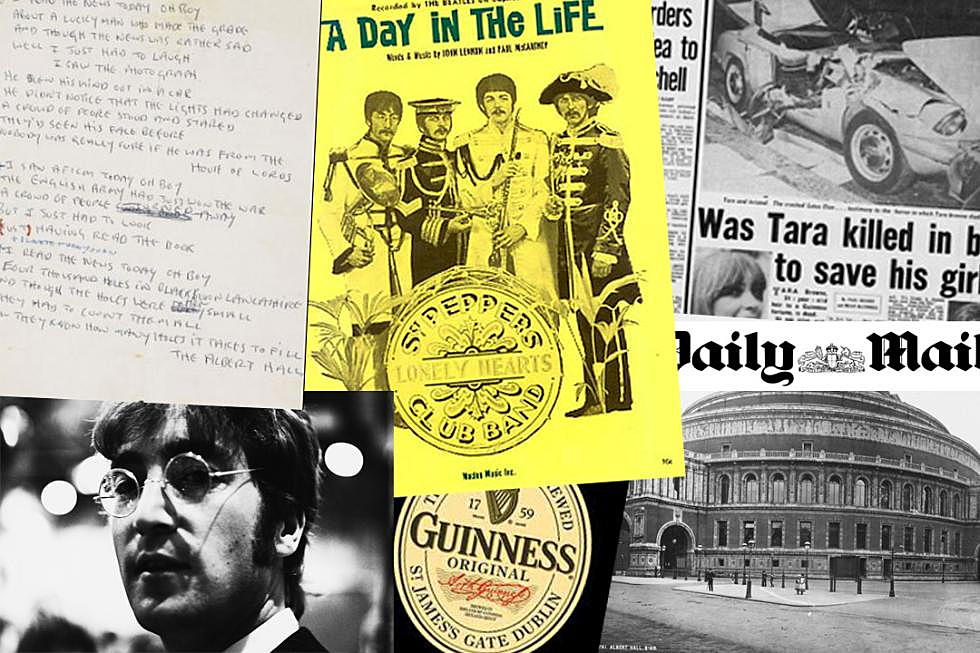 55 Years Ago: Tragic News Inspires the Beatles' 'A Day in the Life'
Sotheby's / Northern Songs / Daily Mail /Guinness / Hulton Archive, Getty Images (2)
Decades before Law & Order was "ripped from the headlines," the Beatles did the same thing for "A Day in the Life." Three of the verses from the epic song that would close Sgt. Pepper's Lonely Hearts Club Band were inspired by newspaper articles that were printed on Jan. 17, 1967.
"I was writing 'A Day in the Life' with the Daily Mail propped in front of me on the piano," John Lennon recalled in The Beatles Anthology. "I had it open at their News in Brief, or Far and Near, whatever they call it. I noticed two stories. One was about the Guinness heir who killed himself in a car. That was the main headline story. He died in London in a car crash."
Lennon was at home when he read about the man in question – Tara Browne, a 21-year-old Irish native, heir to the Guinness fortune and London socialite who had died in a car crash in December 1966. The news that day was about the coroner's verdict into the death of Browne, whom Lennon knew. As a fixture on the London scene, the young man had become pals with members of many British bands, including the Rolling Stones, the Troggs and the Beatles.
Lennon's shock at the recognition of his deceased acquaintance is referenced in the lyrics ("I read the news today, oh boy" and "I saw the photograph"), although the Beatle took creative license in the second verse, transforming Browne into a politician who "blew his mind out in a car." When John began working on the song – under the working title "In the Life Of … " – with Paul McCartney a few days later, he must not have mentioned Browne, because McCartney softened the song's connection to his late pal for decades.
"The verse about the politician blowing his mind out in a car we wrote together," McCartney said in Many Years from Now. "It has been attributed to Tara Browne, the Guinness heir, which I don't believe is the case, certainly as we were writing it, I was not attributing it to Tara in my head. In John's head it might have been. In my head I was imagining a politician bombed out on drugs who'd stopped at some traffic lights and didn't notice that the lights had changed. The 'blew his mind' was purely a drugs reference, nothing to do with a car crash."
The third verse and middle section of "A Day in the Life" include references to Lennon's work in Richard Lester's How I Won the War and McCartney's memories of school days, respectively, although the song returns to its newspaper inspirations in its final verse. On page seven of Jan. 17's Daily Mail (sometimes incorrectly identified as the Daily Express), Lennon found an item in the Far and Near column about a survey of potholes in Blackburn, Lancashire. The news brief claimed that the holes amounted to "one twenty-sixth of a hole per person."
The bit about the Albert Hall was something conjured by Lennon, with a little help from Terry Doran, a friend of Beatles manager Brian Epstein. "It was Terry who said 'fill' the Albert Hall. And that was it," Lennon said. "Perhaps I was looking for that word all the time, but couldn't put my tongue on it. Other people don't necessarily give you a word or a line, they just throw in the word you're looking for anyway."
With the help of some imagination, courtesy of Lennon and McCartney, heaps of studio echo and a 40-piece orchestra coached by producer George Martin, the day's black-and-white news became one of the Beatles' most psychedelic achievements in "A Day in the Life."
Beatles Albums Ranked Worst to Best