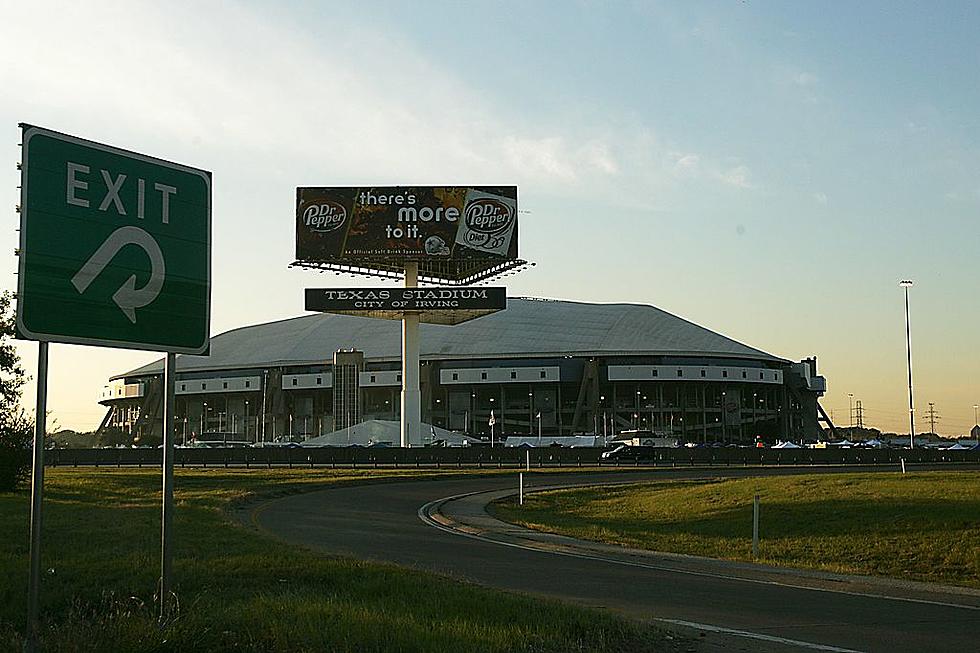 Let's Look Back at the Historic Concerts at the Old Texas Stadium
Getty Images
Today we're going to what I consider one my favorite stadiums ever, the old Texas Stadium. For decades it was home to the Dallas Cowboys, but throughout the years you might have seen a concert there as well. Let's look back at the music history of the venue.
1974 The Brothers and Sisters Tour
The first ever concert wasThe Allman Brothers Band, Joe Walsh, Barnstorm, Marshall Tucker Band, Molly Hatchet. Only one issue for the first ever show, a keyboard shorted out and the concert had to be put on hold til a replacement was found. Took about fifty five minutes, but other than that the tens of thousands of fans had a great time at the first ever concert.
1974 Reunion Tour
The Beach Boys/Crosby Stills and Nash came to Texas Stadium just about a month after the first ever concert at Texas Stadium. Don't have a lot of details other than the fact tickets only cost $8 for the concert. Sounds like a good time in my book.
1984 The Victory Tour
Imagine in 1984, you get to go to Michael Jackson, The Jacksons, and freaking Eddie Van Halen. This is a few years after Thriller came out and Michael was the king of pop. Michael actually performed back to back nights at Texas Stadium. Crazy to think it had been a decade since the last concert at the venue.
1987 Who's That Girl Tour
Let's stay in the 80's and go with what many consider one of the best female performers of the decade. Level 42 opened for Madonna on this tour. I'll be honest, I know nothing about them. However, I am sure girls in North Texas were flocking to this show.
1988 A Momentary Lapse of Reason Tour
I love this old footage from someone's home movies of them going to the concert that day. Although I can't find any concert footage of this show, the audio version is available below if you're interested.
1988 INXS / Guns N' Roses / The Smithereens / Iggy Pop / Ziggy Marley and the Melody Makers
Talk about a freaking lineup for this one, but many would see a Guns N' Roses concert much bigger than this one in a few years. Sadly, I once again can't find footage of this one, but Guns N' Roses full audio from that night is above.
1988 George Michael / The Bangles
Couldn't find any audio or video of this tour stop. So put in some behind the scenes footage of George Michael prepping for his 1988 tour above. What's crazy to me is that The Bangles only played four songs as the opening act, not really much of an opener there.
1989 Tom Landry Appreciation Day
When Jerry Jones bought the team in 1989, he fired the only coach the Dallas Cowboys ever had. The legendary Tom Landry. I guess that year Jerry tried to smooth things over with the fans by having a day to honor the coach. This would be two months after he was fired, so why not have a flag football game and get Kenny Loggins to do a concert?
"Yeah, that will make things better, you folks like 'Danger Zone' right?"- Jerry Jones probably
1990 Paul McCartney
Nothing like some grainy 90's camcorder footage of a concert. You got to love it. The Beatles legend took the stage for over two hours on this April night in Irving. Try not to get motion sickness watching that video above.
1990 The Magic Summer Tour
Let's get into the best decade, the 90's. In 1990, the Magic Summer Tour had a stop at Texas Stadium. This included New Kids on The Block, Perfect Gentleman, Rick Wes, and Chris Pittman. This concert happened in August, so I imagine that was a brutal day in Texas Stadium.
1992 Willie Nelson / Neil Young / John Mellencamp / Paul Simon / Steve Earle / Lynyrd Skynyrd / Joe Walsh / Kentucky Headhunters / Richard Marx / Highwaymen / Kinky Friedman / Petra / Tracy Chapman / Michelle Shocked / Arc Angels / John Conlee
You have probably heard about the historic Live Aid concerts, have you heard of Farm Aid? The concert benefits American farmers and back in 1992 Texas Stadium got to host this massive lineup. If you're interested the Farm Aid YouTube page has a bunch of videos from this night.
1992 Genesis: We Can't Dance
Sadly it looks like the touring days of Genesis our done due to Phil Collins health, but back in 1992 the We Can't Dance Tour averaged over 50,000 people per show. North Texas fans took over Texas Stadium to check out the band play 22 of their hits throughout the years.
1992 The Beach Boys
Sadly no audio or video for this one. With only The Beach Boys at the show, they went all out on this summer night playing 32 songs for the fans in Irving.
1992 Guns N' Roses/Metallica/Faith No More/Kings X
Damn, I can't believe I can't find footage of the Texas Stadium show for this one. This was one of those tours that everyone wanted to go to back in the day. In hindsight, it was one of the most dysfunctional tours for several reasons. Just a few weeks prior to the stop in Texas Stadium, Metallica front man James Hetfield would be burned by pyro at the Montreal tour stop. This lead to Guns N' Roses having to come on 'early', not really though. 2.5 hours later the band took the stage, left after nine songs due to audio issues and had a riot in Montreal because fans were pissed. This concert at Texas Stadium had no issues from what I can find, however Faith No More would get kicked off the tour a few weeks later for urinating on Guns N' Roses teleprompter.
1992 U2/Public Enemy/The Sugarcubes
U2 is one of those bands that has had some strange openers in their careers. You would not expect Public Enemy to open for U2 ever, but that was a thing for 23 cities back in 1992 and Texas Stadium held one of those shows. Sadly no audio or video on YouTube for me to share.
1993 Garth Brooks/Trisha Yearwood
Alright we have done the rock for a few years, but country returned in a big way on this night in 1993 with Garth Brooks and Trisha Yearwood taking over Dallas Cowboys country. It was actually two back to back nights at Texas Stadium for Garth, Stephanie Davis played the second night of the show.
1994 The Division Bell
Pink Floyd made their return to Texas Stadium in 1994 for this tour on back to back nights at Texas Stadium. This would be the final full tour for the band ever. So if you were a part of this night, you were a part of history.
1994 Hell Freezes Over Tour
The Eagles reunited after fourteen years and Melissa Ethridge was the opener for these shows. Sadly, once again no footage from the Texas Stadium shows. The show took place on July 3rd, which was a Sunday. So I am sure some folks had an epic Fourth of July weekend.
1995 Elton John/Billy Joel
Damn, another one where I can't find footage of the Texas Stadium show, but this was a massive night of music. Both artists playing together the classics and I believe my parents went to this show when it was in Baltimore. I didn't go because I was six and probably would have complained the whole time.
1998-George Straight's Country Music Festival
So obviously you had George Strait, but also Tim McGraw, Faith Hill, Lee Ann Womack, John Michael Montgomery, Asleep at the Wheel, and Lila McCann. The summer tour had a stop in Texas Stadium and it would not be the last for George Strait either.
1999-NSYNC/ Jordan Night/ 5ive
From what I can see this is from the Boys of Summer Tour. This is about one year from when NSYNC would explode in popularity in 2000, but fans in North Texas got to see them perform their debut album in full at this show.
2000 Summer Sanitarium
If you could ask me what show I would want to be at, this one right here. It was on my birthday in 2000 that this epic tour hit Texas Stadium. Sadly I was not living in Texas at the time, but this lineup is peak my music taste at the time. Korn, System of a Down, Powerman 5000, Kid Rock, and Metallica. Sign me up!
2001 Pop Odyssey Tour
NSYNC are back at Texas Stadium just two years after their previous show. Along with Samantha Mumba, Dante Thomas, Eden's Crush, and Meredith Edwards. Let's be honest, everyone packed Texas Stadium to see NSYNC that night.
2001 - Dave Matthews Band/Angelique Kidjo / Wyclef Jean
Another tour with an interesting lineup, but back in 2001 Texas Stadium got Dave Matthews Band. Arguably the late 90's were their biggest time as a band, but the love was still strong in the early 2000's to have a show at the home of the Dallas Cowboys.
2003 - Summer Sanitarium
We actually have HD footage of the Linkin Park set of this show at Texas Stadium (Fun Fact, the Linkin Park footage is half from the Texas Stadium show and half of the show at NRG Stadium in Houston). Linkin Park were the openers if you can believe it in 2003, but you had Metallica, Limp Bizkit, Deftones, and Mudvayne as well. Summer Sanitarium, you're missed.
2004 - Buffet/Strait/Jackson
George Strait always brings a jam packed lineup to Texas Stadium when he performs and at his final show at this version of the Dallas Cowboys stadium he brought Alan Jackson and Jimmy Buffet along for the ride.
2006 - Phil Vassar
Sorry can't find footage of any of the Phil Vassar concert at Texas Stadium, but sadly this would be the final concert at the venue. Yes, the Dallas Cowboys had many halftime performances throughout the years on Thanksgiving, but those don't count to me as full concerts. However I will put that list below.
History of the Dallas Cowboys Thanksgiving Performers
From 1997 to now, we go through every performer the Dallas Cowboys have had since 1997.
Top Ten Trashiest Towns in Texas
Time to take out the trash or show off the trash of Texas. Check out the top ten below.
(All crime statistics were pulled from
www.neighborhoodscout.com
based on each individual town. See editor's note for Lufkin, Texas.)