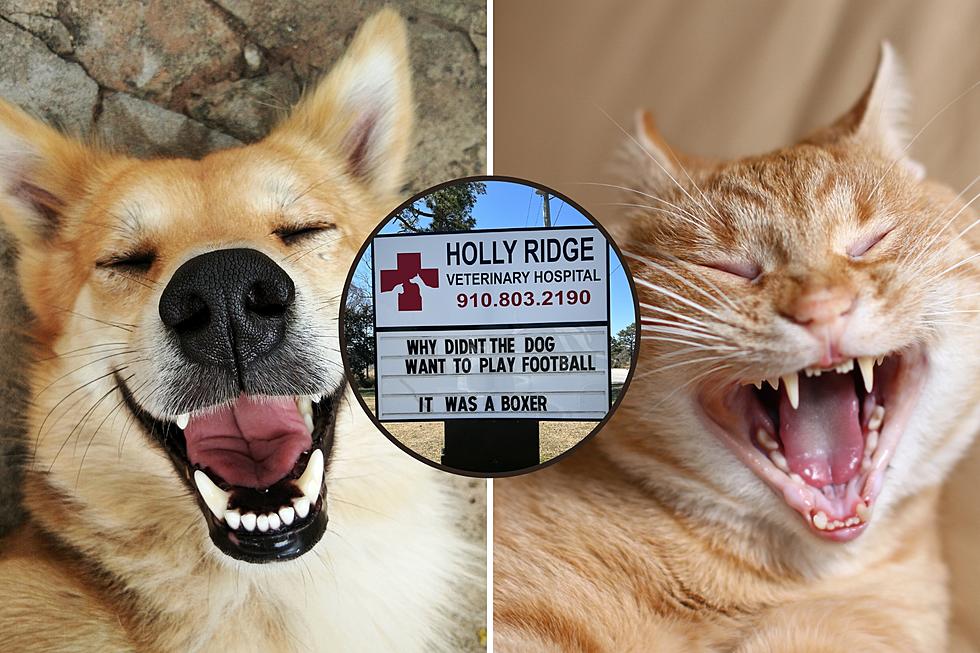 Vet's Outdoor Sign Will Have You Laughing With These 14 Punny Funnies
Photo: Holly Ridge Veterinary Hospital/Facebook/Canva
There aren't too many things I enjoy more on this Earth than my dogs Buck and Peep. You're probably the same with your pets. They become such a big part of our daily lives relying on us as much as we do them. It seems like every pet I've owned has had its own personality. I once had a minah bird with an attitude, which he probably developed from me. Pets are just a fun part of life. The doctors and staff who take care of our pets can be just as much fun, with a sense of humor.
I first learned about Holly Ridge Veterinary Hospital from the pet website Funcatz. What's great about this location is the sign you'll notice outside. All it takes is a drive-by to make you giggle. This sign has been making folks smile with its witty jokes and one-liners. Now, it's gaining wide attention through social media outlets. Look below for some examples that are always worth a laugh.
LOOK: VET'S OUTDOOR SIGN WILL HAVE YOU LAUGHING WITH THESE 14 PUNNY FUNNIES
It's hard to argue with that logic.
---
Who knew there was a bark side to The Force?
---
Actually, imagine a deer with braces. Now, that's funny.
---
Nobody is safe. Even clowns.
---
I haven't thought about "collar" ID's in forever.
---
Ask a silly question...get a silly answer.
---
International jokes? This sign has those too.
---
Let the fur fly.
---
You never can trust a lion.
---
I thought there was something funny going on.
---
It doesn't matter who you are, that's funny.
---
Personally, cherry is my favorite.
---
Hooray for the Weiner.
---
Now that makes perfect sense to me.
Not only do animals make us laugh, but jokes about them also can too. Signs like those you see outside this veterinarian's office can surely help make things more bearable when taking your own furbaby to the doctor. See even more on the hospital's Facebook page.
Here in Abilene, we love our pets and it shows. Check out some of our favorite furbaby pictures submitted by our listeners.
LOOK: Adorable Pets of Our Abilene Listeners